China asks US to respect air defense ID zone after report of B-1 flyover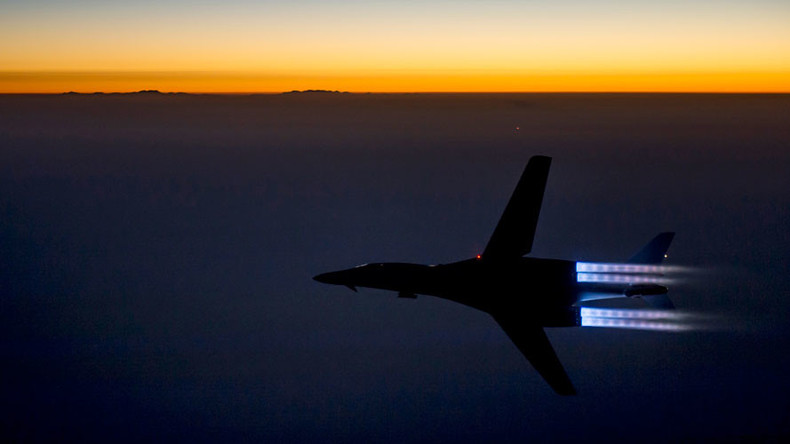 China says the US should respect its self-declared air defense identification zone (ADIZ), after a report alleged that a US bomber illegally flew inside the area in the East China Sea.
"The United States has its own ADIZs. I think if this matter is true, they should respect China's relevant ADIZ rights," Chinese Foreign Ministry spokeswoman Hua Chunying told a daily news briefing on Thursday.
It comes after CNN reported that Chinese officials warned a US military aircraft flying near South Korea on Sunday, telling its pilots they were illegally operating in Chinese airspace and ordering the plane to leave.
The pilots reportedly told China they were carrying out routine operations in international airspace and that the plane did not deviate from its path, the news outlet reported, citing US Pacific Air Forces spokesman Maj. Phil Ventura.
Chunying admitted on Thursday that she was unaware of the reported incident, but stressed that "all countries" should respect the security concerns of other nations.
"But, generally speaking, I hope that in this region all countries' actions consider the security concerns of relevant countries and be beneficial for mutual trust, peace and stability between countries," Hua said, as quoted by Reuters.
She deferred questions to the defense ministry, which has not yet responded to requests for comment.
The reported incident comes amid heightened tensions between Beijing and Washington, in regards to China's claims in the East China Sea.
China declared the ID zone in the East China Sea in 2013, requiring aircraft to identify themselves to authorities. However, the US and Japan have refused to recognize the zone, which covers the disputed Senkaku islands – claimed by both China and Japan – and overlaps airspace claimed by Japan and South Korea.
"Pacific Air Forces… did not recognize the Chinese Air Defense Identification Zone (ADIZ) when it was announced in November of 2013, and does not recognize it today," Ventura told CNN.
"The ADIZ has not changed our operations," he added.
The B-1 bomber was in the region to conduct a series of training missions with Japanese and South Korean military aircraft, according to a US Air Force statement announcing the exercises.
"Our increased cooperation enables our combined forces to rapidly react to counter aggression against Japan and other allies and partners," said US Maj. Ryan Simpson, the Pacific Air Forces bomber operations chief, said in the statement.
Last month, Beijing urged Washington to avoid stirring up "instability" in the disputed waterway, stressing once again that the Senkaku Islands – which China refers to as the Diaoyu islands – have been an "inherent part of Chinese territory since ancient times."
The warning came after US Defense Secretary James Mattis reaffirmed America's commitment to Japan's security, making clear that Washington opposes any "unilateral action" to "overthrow" Japan's administration of the Senkaku Islands.
Mattis cited Article 5 of the US-Japan Security Treaty, under which the US agreed to defend territories under Japanese administration, including the disputed East China Sea island chain. China has called the treaty a "product of the Cold War."
The two sides have also clashed over China's presence in the disputed South China Sea, with Washington stating in January that Beijing's access to disputed islands should be restricted. That comment was met with backlash from the state-sanctioned Global Times newspaper, which wrote that it would take a "large-scale war" to prevent China from gaining access to the islands.