Israeli 'Skylark' drone crashes in Syria, IDF confirms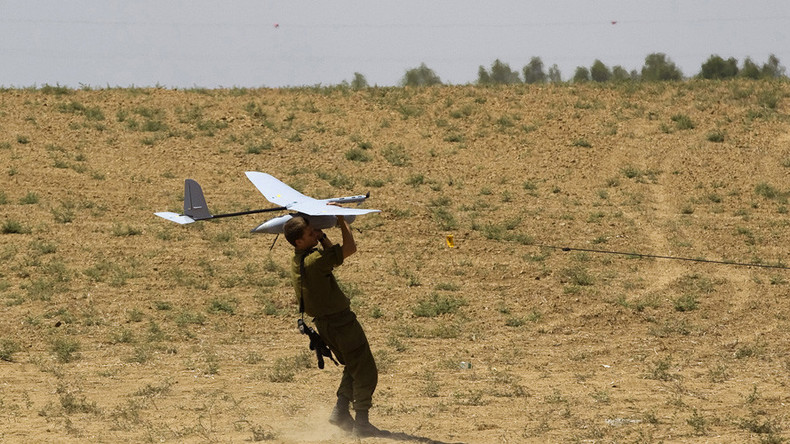 Israel has confirmed that one of its drones crashed on Syrian territory, stating that the circumstances are being examined. It follows similar reports and photographs of the UAV by Hezbollah.
The Israel Defense Forces (IDF) said on Tuesday that the 'Skylark' drone was shot down on Sunday. The statement reads that the "circumstances are being examined."
The army said there is "no risk of a breach of information" following the incident, AP reported.
It comes after Hezbollah's media arm Al Manar published photographs of a drone, with the group claiming it shot the unmanned aerial vehicle (UAV) down after it infiltrated Syrian airspace in Quneitra, in the Syrian-occupied part of the Golan Heights.
Minutes later, the Syrian Defense Ministry released a statement that its air defense unit had shot down a drone over the outskirts of Quneitra. It did not specify the UAV's origin.
It marks the second time in a matter of days that Hezbollah has claimed an Israeli drone was shot down in Syria. It is the second Skylark drone to allegedly come down in enemy territory in the past week, after one crashed in Gaza last Wednesday.
The Skylark, known as 'Sky Rider' in Hebrew, is a tactical surveillance drone created by Elbit Systems and operated by the IDF's Artillery Corps.
The shooting down of the drone comes amid escalating tensions between Israel and Syria, following an early-morning Israeli raid last Friday on a Hezbollah weapons convoy near Palmyra. The incident prompted Syrian air defenses to fire missiles at the Israeli planes.
A statement from the Israeli Army said that "several anti-aircraft missiles" were fired following the raid, but that none hit their targets, dismissing a Syrian claim that one plane had been downed and another damaged.
One Syrian missile was intercepted by Israel's Arrow missile defense battery, according to IDF officials, marking the first reported use of the system.
Meanwhile, an Israeli drone strike reportedly killed a member of a Syrian pro-regime militia on Sunday, hitting a truck driving near the town of Khan Arnabeh in Quneitra province.
READ MORE: Palestinian jailed for 9 years for hacking Israeli drones & CCTVs to intercept video in real time
The reported strike came just hours after Israeli Defense Minister Avigdor Liberman threatened to destroy Syrian air defense systems, with Israeli aircraft being targeted during a bombing run early Friday morning.
"The next time the Syrians use their air defense systems against our planes we will destroy them without the slightest hesitation," Liberman told Israel Radio.
Although Israel is not actively fighting in the Syrian war, it closely monitors Iran and Hezbollah, both of which are backing Syrian government forces. Tel Aviv has repeatedly vowed to prevent Hezbollah from acquiring any advanced weaponry, and several strikes on such convoys in recent years have been attributed to Israel.