Molotov cocktails & tear gas: Clashes erupt at police brutality protest in Paris (PHOTOS, VIDEO)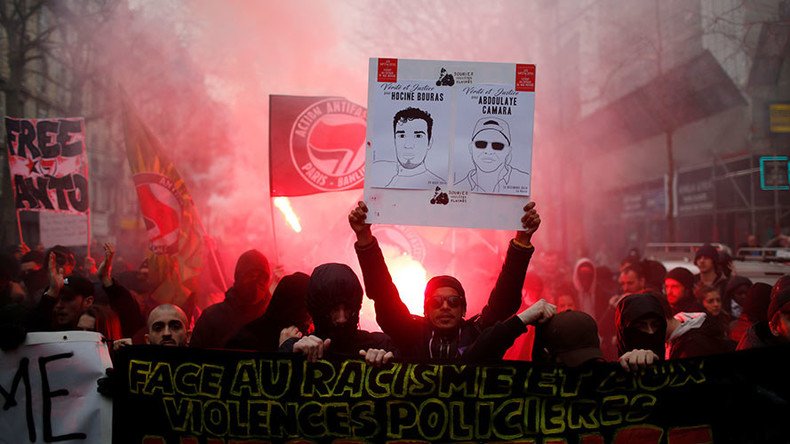 French police and protesters have clashed at a demonstration against police brutality, the latest in dozens of similar rallies inspired by the alleged rape of a young black man with a baton.
Thousands of protesters turned up for the rally which began at the Place de la Nation on Sunday afternoon, in support of "justice and dignity" following the so-called 'Theo Case' that's already caused uproar in the suburbs of Paris.
READ MORE: School's out! French police use tear gas as 'state violence' protests spread to schools
A reported 7,000 to 7,500 people marched from Place de la Nation to Place de la Republique, carrying banners that called for "Justice and Dignity and Stopping Police Impunity" in what was a still a peaceful protest.
Clashes broke out between some protesters and police at around 5 pm local time.
At the end of the protest, about 1,000 hooded demonstrators were filmed throwing Molotov cocktails and flares at police, who responded with tear gas.
READ MORE: Tear gas, arrests in Paris as students protest alleged rape of detainee by police (VIDEO)
Two police officers were taken to hospital with minor injuries while three people were arrested and windows of five banking institutions were damaged, reports AFP.
The protests stem from the alleged sexual assault of a 22-year-old black man, named Theo, at the hands of four officers while in police custody in February.
You can share this story on social media: