School's out! French police use tear gas as 'state violence' protests spread to schools
Published time: 10 Mar, 2017 21:16
Edited time: 11 Mar, 2017 13:13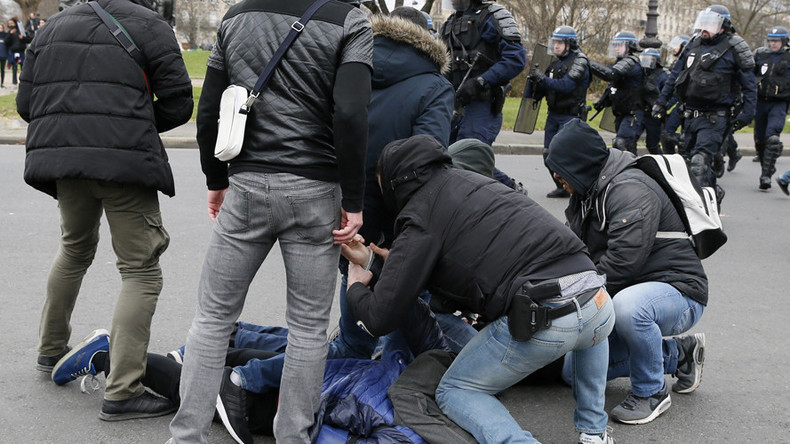 Five teenagers were arrested as students organized protests at three separate schools in the Paris suburbs that quickly turned into riots, with children throwing projectiles, damaging cars, and launching flashbangs.
Early Friday, about 150 people gathered outside Maximilien-Sorre and Gustave-Eiffel schools in Cachan, in the south of the French capital. Video shows hand-drawn banners hung on the school wall, and teenagers taunting officers before running away.
"Projectiles were thrown at officers, but they did not cause serious damage," said a statement from the police prefecture of Val-de-Marne.
Le Parisien reported that the police used tear gas, while eyewitnesses on social media claimed that rubber bullets were also fired. One boy appeared to have sustained a head injury, a photo of which was uploaded on social media, where several others photographed themselves posing in balaclavas ahead of the riot.
The demonstration was dispersed, but in the febrile atmosphere, 200 students gathered outside a school in Fresnes, a suburb two miles south of Cachan. Tear gas canisters were also launched there, wrote Le Parisien.
Hundreds of riots have taken place across France since last month. The nominal trigger was the arrest and alleged brutalization of Theo Luhaka, a suspected criminal, during an arrest in the Paris suburb of Saint-Denis. The officers who detained him have since been suspended and face criminal charges.
But this has done little to defuse the tension, with "Justice for Theo" slogans gradually replaced with demonstrations "against state violence." Previously, most of these flashpoints occurred around transport hubs, and on the streets at night, but the scope appears to be widening.
In a Saint-Denis school on Tuesday, teachers were forced to lock themselves up in classrooms, as students launched Molotov cocktails and set fire to bins. Although 55 people were arrested – 44 of them minors – copycat incidents have arisen throughout France, with daily arrests for public disorder and vandalism in the double figures.
"We have reached a new level of violence," Philippe Tournier, the general secretary of the head teachers' union, said, noting that many of the rioters were disadvantaged, being poor and from ethnic minorities. "If things carry on this way it will be end up with someone dying. Ten years ago, we did not see scenes of this nature."
Both the National Front of Marine Le Pen, and the center-right Les Republicains of Francois Fillon have condemned the violence, and promised to combat it, if their candidates are voted in after next month's presidential election. But the incumbent Socialist government has accused the opposition of "fanning the flame" of the protests.