Streets of riot 360: Watch tear gas fill Nantes as protesters clash with police (PANORAMIC)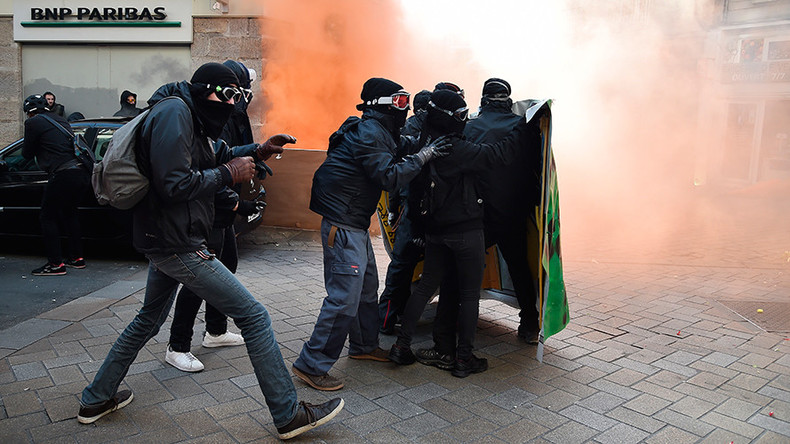 Nantes, France witnessed war-like scenes over the weekend, with anti-fascist and far-left protesters clashing with riot police, who used tear gas. In this RT 360 video, you can experience what it felt like being in the middle of the riot.
On Saturday, the city of Nantes descended into chaos when a mob of masked protesters clashed with police. The events that followed were shot by our RT crew, and can now be seen in the video below.
360 videos are best viewed in desktop browsers or in the YouTube app
The video was shot with a panoramic camera by a cameraman who was running along the streets of Nantes in the midst of the protesters. It shows the city streets filled with tear gas and smoke from smoke bombs, with screams and gunshots heard in the background.
The chaos that surrounded the old buildings of the suburban city in the video gives the impression that war descended upon Nantes, although the proceedings were merely a demonstration initially organized against a speech by National Front leader and presidential candidate Marine Le Pen.
The demonstration, comprising what authorities estimated as more than 2,200 people, began under police supervision of 500 to 600 officers, local media reported.
READ MORE: Watch the most important & spectacular 360 RT videos from 2016
Initially a peaceful rally, it descended into a riot after several participants launched flares, covering the procession in thick smoke.
Many in the crowd began chanting "Everybody hates the police!"
At that point, a smaller group, covered head-to-toe in black track suits and masks, some armed with sticks, separated from the other protesters and began engaging the riot police. The demonstrators reportedly even threw a Molotov cocktail at police, who had to bring a water cannon to the central square.
As a result, at least one officer was taken to the hospital after receiving a burn to his leg, according to the regional newspaper Ouest-France, which said that two people were arrested, and three more taken to a police station for identification checks.