Tear gas, arrests in Paris as students protest alleged rape of detainee by police (VIDEO)
Police have deployed tear gas during protests against police brutality in Paris, French media and Ruptly reported. Residents, mostly students, have taken to the streets of French capital to denounce the alleged rape of a black man by police.
Hundreds of students have taken to the streets for the demonstration, LCI TV reports.
Up to 16 high schools in Paris were totally blocked by protesters, while 12 others were partially blocked. The protest is trending under the hashtag #BLOCUSPOURTHÉO (Bloc for Theo).
"Everyone hates police," the protesters were heard shouting, according to BFM TV.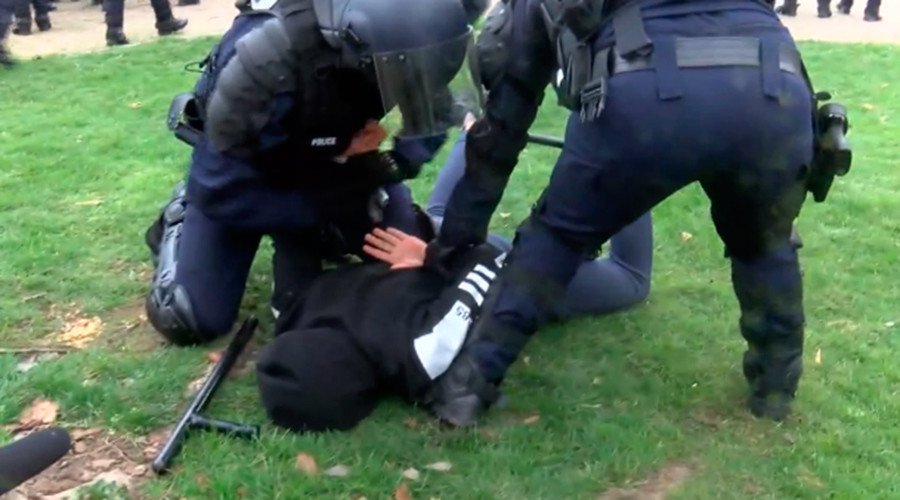 "Vengeance for Theo," one of the banners read.
Tear gas was reportedly deployed in Place de La Nation in the heart of the French capital, a regular venue for protests.
Ruptly's live feed showed police detaining several protesters and escorting them away in handcuffs.
At least 11 demonstrators have been arrested, French media reported.
Among the schools blocked Thursday morning were Dorian Claude Bernard and Maurice Ravel lycées, LCI said.
The demonstration was called by Independent Counter-Struggle Movement (MILI) on Facebook.
READ MORE: 'Paris police rape case will influence French presidential race'
"The climate in France is becoming more and more worrying. A great mobilization of youth is more than necessary to counter the security and racist climate," the group said.
Garbage had been piled up in front of the entrance of several Parisian schools overnight, AFP reported, adding that some were set on fire during the protest.
The rally had not been sanctioned the city authorities, according to BFM TV.
"The Police prefecture hasn't received any declaration for this demonstration set for tomorrow [February 23]," police said in a statement on Wednesday, "Don't react to calls for protest or block the lycees."
The president of Ile-de-France region, Valerie Pecresse has condemned "the blockades" and asked the government to secure the areas near high schools.
Je condamne les blocages de lycées à Paris. Je demande au gouvernement de sécuriser leurs abords, de protéger lycéens, enseignants et agents

— Valérie Pécresse (@vpecresse) February 23, 2017
Protests over police brutality have been sweeping France since early February, when allegations emerged that police officers had assaulted and raped a 22-year-old black man with a baton during what was said to be a routine ID check in Aulnay-sous-Bois.
READ MORE: Police teargas masked protesters in Paris suburb as anti-cop riots continue (VIDEO)
"Theo," a local youth worker whose full name has not yet been released, ended up spending two weeks in the hospital as a result of the assault. Numerous demonstrations have been held, calling for "Justice for Theo."
You can share this story on social media: