'I screwed up,' Orly Airport attacker told father before assault
Published time: 19 Mar, 2017 17:54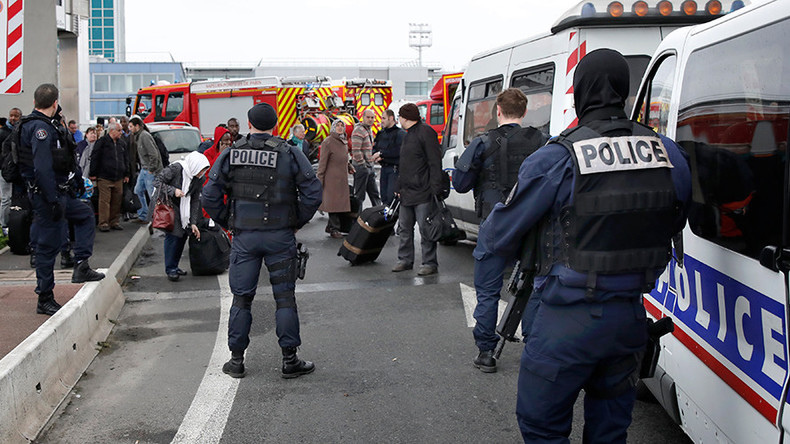 The father of the Orly Airport attacker said his son called him before the assault to beg for forgiveness. The assailant "sounded distressed" and said he had "screwed up."
France's Europe 1 radio station says it interviewed Ziyed Ben Belgacem's father after he was released from hours-long police detention.
"He called me at seven, eight in the morning," the father, whose name is not provided, said. "He was extremely distressed, even his mother couldn't understand it."
"He told me, 'I ask for your forgiveness. I've screwed up with a cop,'" he added.
Belgacem's father also said that his son had never been a religious radical or a terrorist, but could have instead carried out the attack at the Paris Orly Airport under the influence of alcohol or drugs.
"My son was never a terrorist. He would never pray. He drank. And under the effects of alcohol and cannabis, this is where one ends up," he said. French officials said that an autopsy is to be conducted to determine whether the attacker was drunk or high on drugs at the moment of the attack.
On Saturday, Belgacem, 39, a French citizen of Tunisian origin, targeted a patrol of three air force soldiers and wrestled a female soldier to the ground before trying to take her weapon. He briefly held the soldier hostage before being shot.
"I am here to die for Allah, there will be deaths," he shouted during the attack, the soldiers who witnessed the situation told investigators.
A petrol can and a copy of the Koran were found in his backpack at the scene of the attack, according to Paris prosecutor Francois Molins.
Molins said at a news conference on Saturday that Belgacem phoned his father and brother on Saturday morning before the attack, and afterwards he opened fire at a police traffic patrol, injuring one officer. The injured police officer had attempted to stop Belgacem at a checkpoint near Le Bourget, another airport near Paris. Belgacem reportedly carjacked a vehicle, before setting off for Orly, one of the country's busiest transport hubs.
Though Belgacem's father was only detained shortly following the attack, the assailant's brother and cousin still remain in custody.
Belgacem was out on bail, banned from leaving France and obliged to report regularly to police, having been handed preliminary charges for robberies in 2016.
Police found a small amount of cocaine during a search of Belgacem's flat, according to Molins. At the same time, police sources said earlier that he was on a police watch list for radical Islamic activity, and was reportedly radicalized in prison between 2011 and 2012.