Bahrain police clash with protesters after funeral of activist who died in custody (VIDEO)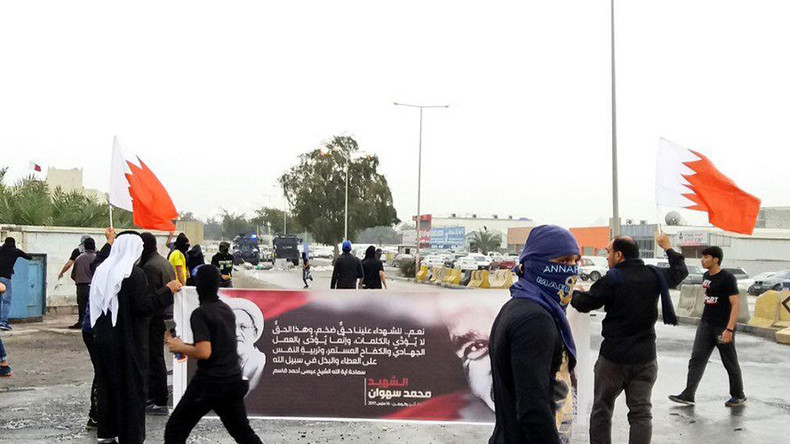 Police in Bahrain fired tear gas to disperse angry protesters after thousands of mourners marched in honor of an activist who had been wounded and arrested in the monarchy's 2011 opposition crackdown and who recently died in police custody.
The death of Mohammed Sahwan from "natural causes" was announced by the government on Thursday. He is reported to be the first activist who has died in Jau prison, south of Manama, following the 2011 protests that were violently suppressed by the Gulf island's monarchy.
While the death of the activist, who was serving a 15-year term has been attributed to a heart failure, his relatives claimed that the 45-years old inmate died as a result of a serious head injury he suffered back in April 2011. Over the years, Sahwan's family insisted that he never received proper medical treatment for the 80 birdshot pellets which struck him during the violent crackdown, and which remained in his head.

WATCH: Tear gas & clashes as trial of Bahrain's top Shiite cleric postponed
Thousands attended Sahwan's funeral Friday in his hometown of Sanabis. They gathered to honor the fallen hero of the suppressed revolution, but the crowd was met by excessive use of force by the police, AFP reported.

After the funeral, several hundred enraged mourners started shouting slogans against the King Hamad bin Isa Al Khalifa, whom they hold responsible for violations in Bahraini prisons, triggering an immediate retaliation from the security forces.
Witnesses said police fired buckshot and tear gas to disperse the crowd, who attempted to march on Pearl Square — the heart of the 2011 Arab Spring protests in the capital, Manama. Reports said at least one protester suffered a birdshot wound in the eye, FARS news reported.
"We are saddened by the passing of Mohammad Sahwan, who never received justice in life for the police violence he suffered, and it is outrageous that his funeral procession was hit by excessive force again," said Sayed Ahmed Alwadaei, director of the Bahrain Institute for Rights and Democracy (BIRD).
READ MORE: Britain won't back UN statement condemning Bahrain's human rights abuses
"Bahrain has long used coerced confessions and broad anti-terror legislation to arbitrarily detain its citizens, and it is deeply troubling to see that another prisoner has now died inside Jau," noted Husain Abdulla, Executive Director of Americans for Democracy & Human Rights in Bahrain (ADHRB).
The Gulf Island, the base of the US Navy's Fifth Fleet, has faced increasing criticism over its human rights violation in the wake of the uprising in 2011.
Following the immediate wave of unrest, in February and March 2011, the Bahrain Independent Commission of Inquiry (BICI) was established by the King in June to investigate the violence. In a 500 page report, the probe recorded 46 deaths, 559 allegations of torture; including children, and more than 4,000 cases of employees being fired for joining the protests. BICI has also submitted a number of recommendations to ease tensions.
But despite this, the crackdown on activists continued. Ongoing violations of human rights through the arrests of political dissidents, doctors, demonstrators, and children have been reported. The government also stepped up the arrests of cyber activists, while media outlets witnessed a major crackdown both online and offline.