Israeli forces clash with Palestinian protesters after slain teen's funeral (VIDEO)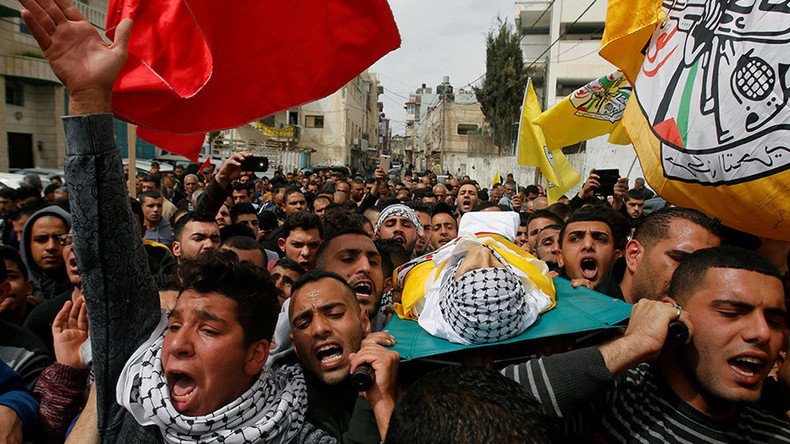 Palestinian protesters threw stones and Israeli forces responded by using tear gas and rubber bullets, as clashes erupted after the funeral of a Palestinian teen, shot dead by IDF.
Eight protesters were injured by rubber bullets on Saturday at the al-Arrub refugee camp near Hebron in the occupied West Bank on Saturday, according to Ma'an news agency, citing Palestinian Red Crescent sources.
Dozens of people, including women and children, also required medical attention after inhaling large doses of tear gas, it added.
According to the agency, an Israeli border guard also suffered minor injuries after being hit with a stone.
The clashes broke out shortly after Murad Yusif Abu Ghazi, 16, was buried at the refugee camp.
READ MORE: Teargas in West Bank as Palestinians decry death by Israeli forces working with local police (VIDEO)
Palestinians started throwing stones at Israeli forces. The IDF retaliated by firing rubber bullets and tear gas.
The funeral was attended by hundreds of mourners who chanted anti-Israeli slogans and hailed those killed by the Israeli forces.
Abu Ghazi was shot dead by the IDF on Friday; reportedly among a group of protesters hurling firebombs at passing vehicles on the road near al-Arrub.
The IDF said that they opened fire to prevent the attacks, saying they "identified a hit," the Haaretz newspaper said. Another Palestinian teen was seriously injured in the incident, the paper added.
READ MORe: 'Time has come' for peace deal: Trump finally speaks with Abbas, invites him to White House
Abu Ghazi is the 13th Palestinian to be killed by Israeli forces since the beginning of the year, according to Ma'an.
You can share this story on social media: