Teen pleads guilty to raping 90yo woman in Germany as trial begins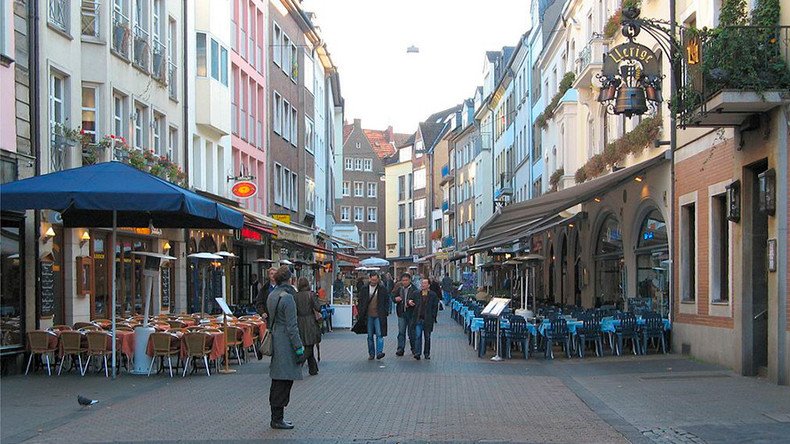 A 19-year-old man has pleaded guilty at the start of his trial to raping a 90-year-old woman who was on her way back from church in Dusseldorf's old town. He faces up to 15 years in prison when sentenced.
The crime occurred on October 2 last year at around 11 am when the unnamed woman was walking back home after visiting a church in Düsseldorf's famed Altstadt district. She was confronted by the young man, known only as Souhayl M., yelling "money, money!"
He is also said to have shouted "Keep silent, or death," German media reports.
When it turned out the old lady didn't have any cash, the young man dragged her into a passage between two buildings where he raped her while choking and pulling on her hair. He then went through her handbag, stole her house key and wrote down her address, though there's no evidence he tried to break in at any point.
The elderly victim had to be hospitalized after the attack, while the suspect, a Spaniard of Moroccan origin, was charged two weeks later after his DNA matched with that taken from the scene of another robbery he'd been arrested for that had taken place in May.
In his appearance before Dusseldorf District Court on Thursday, Souhayl admitted to carrying out the crime. "When I got home, I could not believe what had happened," said the defendant in his statement.
Souhayl, who has no fixed address, said he was on a combination of cocaine, ketamine, and alcohol prior to the attack, and had set out to only committing a robbery, not a rape. After glancing through his criminal record, however, the judge pointed to a case of apparent sexual assault back in Spain, which Souhayl denied.
Born in Morocco, Souhayl has a history of being involved in petty crime, having dropped out of school at the age of 15 and claiming to have joined a set of the infamous US-based street gang, the Latin Kings. In Spain, he was arrested several times, including for violent brawls, and eventually fled the country in 2016 after he was threatened with jail time.
In Germany, he quickly became known to police for a string of shoplifting incidents and other small thefts.
Souhayl is also charged with stealing 30 euros from a woman at a nightclub. Having admitted to charges of rape, theft and bodily harm, the young man faces a prison term of up to 15 years when the trial resumes for sentencing. The trial is set to continue on March 27.
You can share this story on social media: