Erdogan accuses EU of anti-Islam 'crusade' over headscarf ruling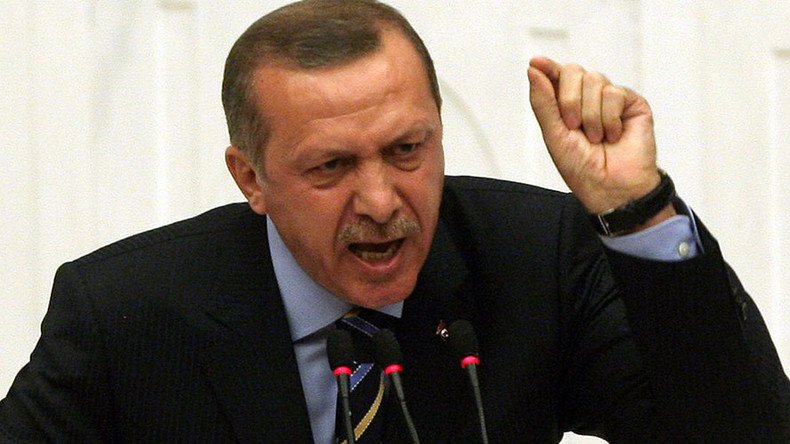 The Turkish president has accused the EU of launching an anti-Islam "crusade" over a ruling that allows companies to ban staff from wearing headscarves. He added that the Netherlands has lost Turkey's friendship amid a deepening crisis in ties.
Addressing a rally in the northwestern Turkish province of Sakarya on Thursday, President Recep Tayyip Erdogan expressed his discontent with a Tuesday ruling by the European Court of Justice, which states that Islamic headscarves can be banned by employers as part of a general policy barring all religious and political symbols.
READ MORE: Turkey accuses EU of 'selective democracy & xenophobia' in rally row
"Shame on the EU. Down with your European principles, values and justice...they started a clash between the cross and the crescent, there is no other explanation," he said, as quoted by Reuters.
His comments follow a similar statement by Turkish Foreign Minister Mevlut Cavusoglu, who warned on Thursday that "wars of religion" will soon begin in Europe.
Erdogan went on to slam the prime minister of the Netherlands, Mark Rutte, saying he had lost Ankara's friendship after Dutch authorities banned ministers from speaking at a rally in Rotterdam and dispersed hundreds of protesters outside the Turkish consulate.
The Turkish president has been extremely vocal in his distaste for the Netherlands ever since, accusing the country of acting like "Nazi remnants," state terrorism, and having a "rotten" character.
Ankara has also imposed diplomatic sanctions on the Netherlands, suspending high-level talks and barring the Dutch ambassador from returning to Turkey.
For his part, Rutte previously stated that he would try to "de-escalate" the row, but noted that it "takes two to tango."
READ MORE: Dutch businesses in Turkey not at risk over diplomatic conflict - Turkish minister
Erdogan is heavily relying on the support of 5.5 million expatriate Turks to vote 'yes' in an upcoming constitutional referendum which would give him sweeping new powers.
Under the legislation, the president would be allowed to issue decrees, declare emergency rule, appoint ministers and state officials, and dissolve parliament.
Critics say the move would be a huge hit for democratic values, removing the country's system of checks and balances.
You can share this story on social media: