US carrier to arrive for joint drills with S. Korea as Pyongyang warns of 'merciless' strikes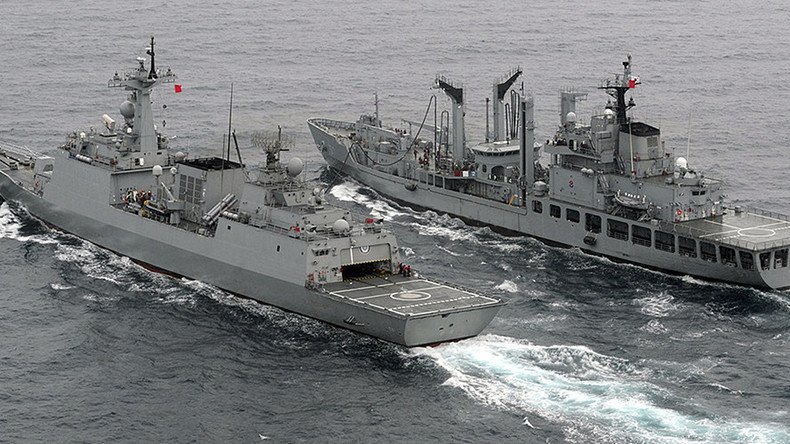 A US Navy aircraft carrier group is expected to arrive in South Korea on Wednesday to take part in joint annual drills, the US military announced. It comes after the North warned of "merciless" attacks if its sovereignty is violated during the exercises.
The strike group will arrive at the port city of Busan on Wednesday, US Naval Forces Korea said, as cited by Yonhap News.
Arriving at the port will be the nuclear-powered aircraft carrier 'USS Carl Vinson', along with aircraft from the Carrier Air Wing (CVW) 2, and the Arleigh Burke-class guided-missile destroyer 'USS Wayne E. Meyer.' More than 80 aircraft are aboard the supercarrier.
READ MORE: US & South Korea drills may lead to 'actual war', North Korea warns
A total of 5,500 crew members will arrive as part of the strike group.
About 3,600 US service members were deployed to join the 28,000 US troops already based in South Korea for the annual exercise, which will run through April 30, Pentagon spokesman Navy Capt. Jeff Davis said on March 3.
Davis described the exercise as a series of joint and combined ground, air, naval, and special operations field exercises. It was designed in the spirit of the US-South Korean mutual defense treaty of 1953.
Washington and Seoul maintain that the annual drills are for defensive purposes.
"These exercises are defensive in nature, and they have been carried out regularly, openly and transparently for nearly 40 years," Davis said.
However, Pyongyang has denounced them as part of a "reckless scheme" to attack it.
Earlier on Tuesday, the North warned of "merciless" attacks if the 'USS Carl Vinson' infringes on the country's "sovereignty or dignity" during the exercises.
"If they infringe on the DPRK's (Democratic People's Republic of Korea's) sovereignty and dignity even a bit, its army will launch merciless ultra-precision strikes from ground, air, sea and underwater," the North's state news agency KCNA said, referring to the drills which began on March 1.
READ MORE: US missile system in S Korea 'threatens regional stability' - Moscow
"On March 11 alone, many enemy carrier-based aircraft flew along a course near territorial air and waters of the DPRK to stage drills of dropping bombs and making surprise attacks on the ground targets of its army," the news outlet continued.
Meanwhile, simultaneous two-day trilateral drills are taking place as part of joint exercises between the US, Japan, and South Korea. Those drills involved the dispatch of high-tech missile defense ships to the same area where Pyongyang fired four missiles just eight days ago.
The US Navy says the two-day drills are aimed at improving the capability to shoot down enemy ballistic missiles.
The drills come amid the deployment of the Terminal High Altitude Area Defense system (THAAD) to South Korea, another joint effort between Seoul and Washington in an bid to defend against Pyongyang.
North Korea conducted two nuclear tests and 24 missile launches in 2016. It has fired five ballistic missiles - one intermediate-range and four improved versions of Scud missiles - into the East Sea (Sea of Japan) this year. Four of those were fired last week in response to the annual military drills between the South and the US.
Meanwhile, US Secretary of State Rex Tillerson is due to make his first visit to South Korea on Friday. It comes after the US ambassador to the United Nations said last week that President Donald Trump's administration is re-evaluating its North Korea strategy, and that "all options are on the table."
You can share this story on social media: