Turkey should 'reevaluate' refugee deal with EU, says minister in wake of Netherlands row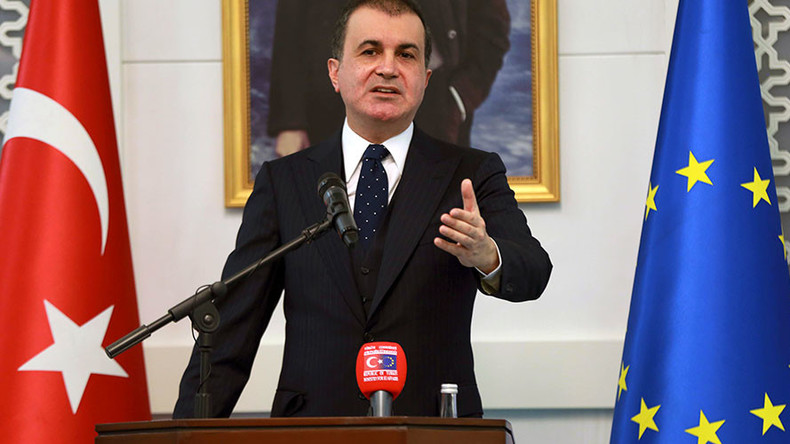 The Turkish EU Affairs Minister says Ankara should rethink its deal with the EU signed 12 months ago which has helped to drastically reduce the migrant inflows into the continent.
While dangerous sea journeys from Turkey should still be prevented, "the issue of transit from the land must be reconsidered," Omer Celik told the state-backed Anadolu news agency.
Celik repeated the official position that in exchange for accepting the return of some asylum seekers to its territory from Europe, Turkey's citizens should be entitled to visa-free travel in Europe, as well as billions worth of other types of assistance.
Celik's latent threat comes two days after Foreign Minister Mevlut Cavusoglu told CNN "either it [the March 2016 agreement] will all be canceled, including the visa liberalization and migrant deal, or it will all be implemented."
Neither politician linked their statements to the rapidly unfolding diplomatic crisis between Ankara and several European states. Most of Celik's interview was concerned with the Netherlands, which he accused of "violations of democracy and the rule of law."
Last week, the Dutch government denied a landing permit to Cavusoglu, who was due to deliver a speech — in support of April's referendum to expand presidential powers in Turkey — to expats living in the country, who number about 400,000. Later, another Turkish minister was prevented from not only giving a speech but also entering the Turkish consulate in Rotterdam.
"Cancelling the flight permit of Turkish ministers, preventing them from entering the consulate which is part of our soil… are clearly crimes, and those crimes were committed by the Dutch government," said Celik, who called on EU bodies and other European states to "carry out a joint fight against that fascist policies of the Netherlands."
Celik spoke ahead of a cabinet meeting in Ankara, after which President Recep Tayyip Erdogan vowed to impose "whatever diplomatic sanctions we can" on the Netherlands, which has more direct investment into Turkey than any other economy, and 900,000 of whose citizens visited the country last year.
While unveiling a string of new diplomatic restrictions later on Monday, Deputy Prime Minister Numan Kurtulmus also backed Celik's words about the possible reconsideration of the migration deal.
READ MORE: Turkey bans Dutch ambassador, suspends diplomatic flights and high-level govt meetings - Deputy PM
In response to the crisis, Dutch Prime Minister Mark Rutte insists that the country has a right to deny Turkish politicians opportunities to stage mass rallies on their territory, due to both, security concerns, and disagreements with the Erdogan's plans to expand his influence through the upcoming referendum.
You can share this story on social media: