2 detained in investigation into Essen shopping mall attack threat – police (VIDEO)
Published time: 11 Mar, 2017 08:04
Edited time: 12 Mar, 2017 14:38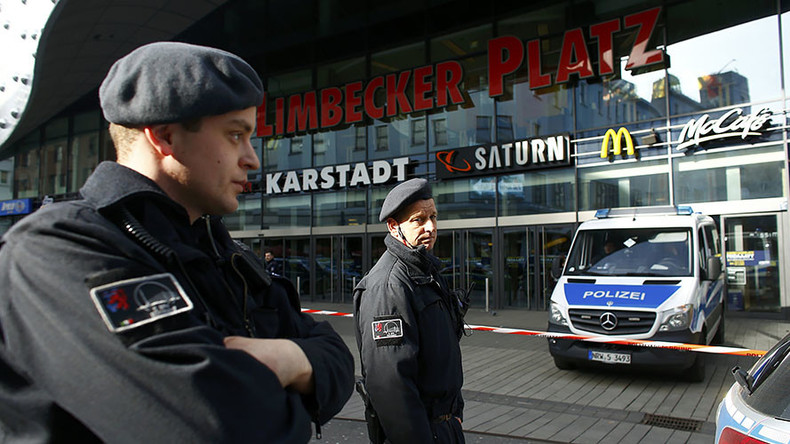 German police have detained two men during an investigation into a terrorist attack threat at a shopping center in the western German city of Essen, a police statement says. The mall remained closed on Saturday.
The local police department received a tip-off about the potential attack from another security service the day before, the statement adds, without naming the source. Police immediately cordoned off the shopping center, which is located at Limbecker Platz in downtown Essen, and ordered it closed.
Law enforcement raided an apartment in the neighboring town of Oberhausen on Saturday afternoon and questioned the owner as part of the investigation.
"Since 13:30 local time (12:30 GMT), police have been conducting a search in an apartment in Oberhausen. The apartment's owner is currently being interrogated," the statement says.
An hour later, another suspect was detained in the same town, it adds. The investigation is now focused on Oberhausen, police say, noting that that a significant number of officers have been deployed at a shopping center there, as it is also regarded as a possible target.
However, authorities say that there is no evidence that the mall in Oberhausen has been a target for an attack.
"The current state of our investigation points to the threat being exclusively at the shopping center," local police said in an earlier statement.
The attack was supposed to involve "several suicide bombers," Bild magazine reported on Saturday, citing intelligence sources.
While the threat apparently concerns only the shopping center, the adjacent roads and entrances to the building have been blocked.
READ MORE: Germany pushes for greater video surveillance with newly-adopted regulation
While the police did not use the phrase "terrorist attack threat" in their statement, local media such as Spiegel or Die Welt are describing it as such.
The closure will last all day. The shopping center wrote on its Facebook page that the measure is necessary to "foil possible threats to our visitors."
The sizable shopping center at Limbecker Platz accommodates some 170 shops and dining outlets, servicing around 60,000 visitors per day, according to N-TV.
Security has been tight in Germany since a string of lone-wolf terror attacks hit the country last year. A Syrian refugee detonated an explosive device outside a music festival in the town of Ansbach last July, killing himself and injuring 12 others. There has also been an axe assault and a shooting spree, as well as a truck attack that took place in Berlin last December.
READ MORE: Bavaria ponders unlimited detention for terrorism suspects
In early March, the head of Germany's domestic intelligence agency, Hans-Georg Maassen, said that Islamists could carry out terrorist attacks at any time, warning that "the potential of violence-oriented Islamists in Germany is growing steadily and will continue to increase." He also stressed that "the high level of hazards for Germany and its interests from Islamist terrorism" remains unchanged.