Germany pushes for greater video surveillance with newly-adopted regulation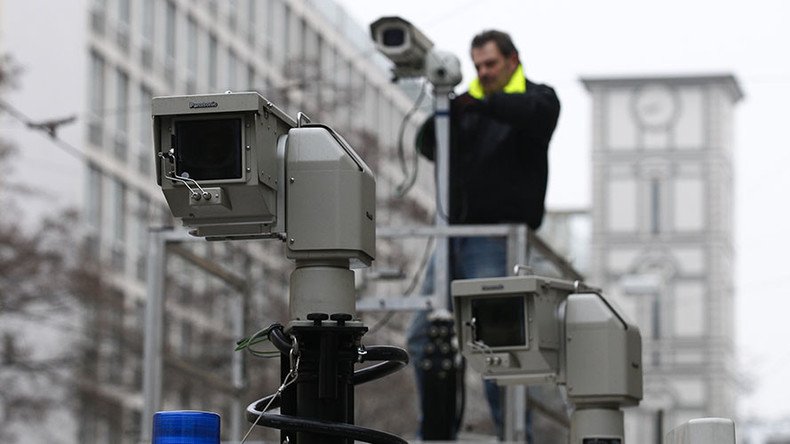 The German parliament has adopted an amendment making it easier to ramp up video surveillance in public places such as shopping centers and stadiums after a spike in terrorist attacks last year. The move has already prompted a wave of criticism from the opposition.
The amendment to the Federal Data Protection Act was adopted by the Bundestag, the lower house, on Friday. The measure comes on the heels of government's response to public criticism of security lapses exposed after a string of lone-wolf attacks that hit Germany in 2016.
The new measures will, according to the government statement, make it easier for private companies to install CCTVs and other surveillance systems in public spaces like shopping centers, stadiums and car parks, and also increase the number of surveillance systems they use.
Private companies or owners of public facilities are not obliged to increase security measures or the scale of video surveillance, though the government "would strongly recommend" that operators "make use of this opportunity."
The amendment also covers the use of video surveillance in public transport, including trains, buses and water transport.
Initially proposed by Interior Minister Thomas de Maiziere, the legislation aims at "increasing the security level in Germany," according to the government statement.
The statement also emphasizes that "protection of lives, health and freedom of people via video surveillance conducted by private operators in publicly accessible areas should be considered as 'an issue of particular importance'."
The Bundestag also adopted the introduction of body cameras that police officers will now wear on their uniforms. The bodycams are designed to protect officers, MPs believe. Police will also be allowed to install new surveillance systems capable of recognizing and registering license plates, said to be an efficient measure in the search for missing vehicles.
The approval of the amendment comes several months after the attack on the Christmas market in Berlin that claimed lives of 12 people and left 48 injured.
German police and intelligence services faced intense criticism following several high-profile attacks that hit the country last year, including the July killing spree in Munich and an ax attack on a commuter train near the Bavarian town of Wuerzburg, as well as a suicide attack at a fair in Ansbach.
'Unprovoked and unfounded mass surveillance'
The government defended the amendment as necessary for public safety but the opposition sharply criticized it, saying that it is a massive intrusion of privacy rights that has nothing to do with improving security.
The new amendment creates conditions for "unprovoked and unfounded mass surveillance" that is "questionable" in terms of its compliance with the German constitution, Konstantin von Notz, an MP from the Greens party, told German news blog website Netzpolitik.org, stressing that vague wording turned the new amendment into a "free ride ticket" for the authorities.
"The three measures, which are absolutely different in their essence and which are hiding behind [the new amendment] have only one thing in common: they have nothing to do with fighting against terrorism," von Notz said, adding that "video surveillance has no preventive effect, especially in case of Salafist terrorists."
Similar concerns were expressed by other politicians and experts. "They [the government] claim that the cameras would be a tool of… [terrorist] attack prevention and [such statements] are either a sign of incompetence or a direct lie," Frank Tempel, an MP from the Left party, said during the parliamentary session on Friday.
He went on to say that the video cameras could help in an investigation of an already committed crime but not in preventing one. They can also instead become another stimulus for the terrorists that seek maximum publicity.
His words were echoed by former Justice Minister Sabine Leutheusser-Schnarrenberger, who told Netzpolitik.org that terrorists could see the surveillance cameras as another tool of spreading their messages.
Volker Tripp, a member of the Digital Society activist group, also said that that public places under video surveillance could be regarded by terrorists as "particularly attractive attack targets."
He also drew attention to the problem of privacy rights by saying that "indiscriminate surveillance" leaves less and less space for the people, where they can feel themselves not under supervision and can exercise their rights guaranteed by the German constitution.
Johannes Caspar, data protection commissioner in Hamburg, told the Bundestag that the law would "pave the way for total surveillance of the public space." At the same time, Jan Korte, a deputy head of the Left party faction in the German parliament, stressed that total surveillance would "threaten our democracy at its core."
The opposition politicians also said that it just creates another form of indiscriminate massive personal data storage that would be financed by private enterprises thus increasing the cost of their services.
However, some experts also positively reacted to the adoption of the new amendment. Hans Peter Bull, a former federal data protection commissioner, called it "right, measured, legitimate and constitutional" and said that he sees no constitutional violation in its text, as reported by dpa news agency.
You can share this story on social media: