Germany bans over 30 Kurdish symbols, incl. flag of US-backed Syrian militia fighting ISIS – report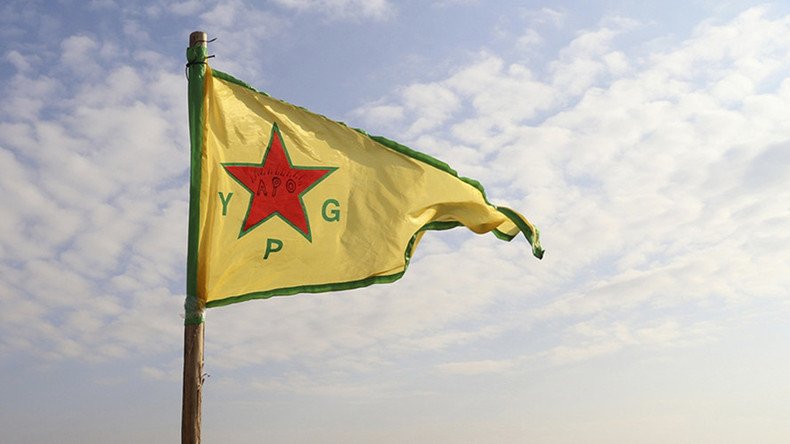 Berlin has reportedly banned a total of 33 symbols used by Kurdish political and military groups, including the flag of a US ally in Syria, YPG militia, and a portrait of an outlawed Kurdish party leader. The move comes amid Germany's tensions with Turkey.
In a letter, seen by German Spiegel newspaper on Friday, German Interior Minister Thomas de Maiziere allegedly ordered a wide range of symbols associated with Kurdish politics to be banned from public display in Germany. The five-page document with respective instructions and the attached list of prohibited images was forwarded by the minister to regional authorities and federal law enforcement on March 2, according to the outlet.
Among the images is the portrait of Kurdistan's Workers' Party (PKK) founder Abdullah Öcalan who is serving a life sentence for forming an armed organization in Turkey. Justifying the necessity of the move, De Maiziere allegedly argued that banners with Öcalan's portraits against yellow and yellow-green background have "a significant emotional impact" and therefore should be forbidden as they are "especially suited to promote cohesion of PKK which is banned in Germany."
The yellow banners featuring Öcalan's image been become a frequent sight at the rallies staged by German PKK supporters who are demanding the release of their incarcerated leader.
Although PKK has been outlawed in Germany since 1993, meaning its insignia has also been banned, this has not prevented those who stay loyal to the party from brandishing the yellow flags at multiple Kurdish rallies across Germany held through the years since its introduction.
Apart from Öcalan's portrait, the Interior Ministry has reportedly also blacklisted the banner of People's Protection Units (YPG), a military wing of the Syrian Democratic Union Party (PYD), which is viewed by the Turkish government as an affiliate of PKK and thus a terrorist organization. But the Kurdish-led YPG is also the main force behind the Syrian Democratic Forces (SDF), an ally of the US in the fight against Islamic State (IS, formerly ISIS, ISIL) in Syria.
Close cooperation between the US military and the YPG has repeatedly drawn Ankara's ire, with Turkish President Recep Tayyip Erdogan calling on his NATO ally to withdraw its backing from the group.
"We are your NATO ally. How on Earth can you support terrorist organizations and not us? Are these terrorist organizations your NATO allies?" Erdogan said in December, following the reports of US forces supplying weapons to the YPG.
READ MORE: 'Support your NATO ally, not terrorists:' Erdogan slams US amidst row over alleged YPG supplies
Few details have been revealed about other points of the list, which is said to consist of 33 symbols belonging to PKK and its subsidiaries.
The ministry itself, however, denied speculation that the move is aimed at appeasing Ankara, arguing that it regularly monitors if the ban on certain group's insignia should be specified according to the way this group operates.
The already strained relations between Germany and Turkey have recently been going through a particularly rocky phase after several campaign events planned by Erdogan supporters in German cities have been canceled for "security concerns." The rallies, which were to be visited by senior Turkish government officials, were supposed to be held in support of the controversial constitutional reform that would give the Turkish president extensive powers if voted for in a referendum in April.
The cancellation of the rallies caused a sharp response from Erdogan, who equated the move to "Nazi practices." The bold comparison has further alienated the two countries, with German Chancellor Angela Merkel saying that that Erdogan's remark was "so out of place as to be unworthy of serious comment."
You can share this story on social media: