Host of 'political' Turkish rally in Austria scraps event after police see 'no legal grounds' to act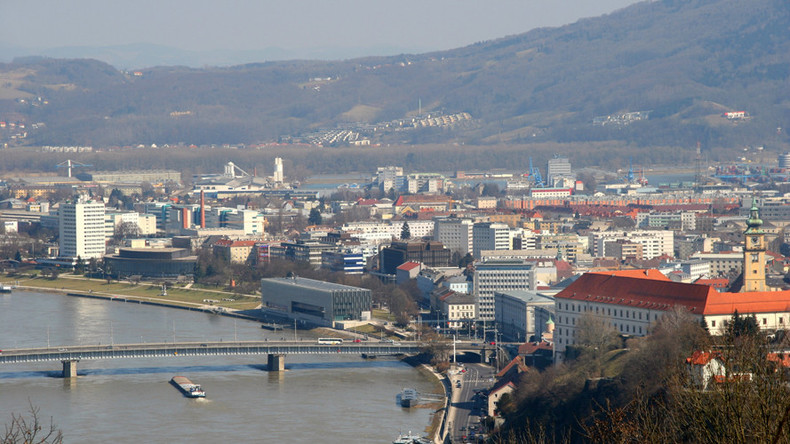 Austrian police have found no reasons to ban a meeting in the city of Linz, which was due to be attended by a Turkish MP ahead of a controversial Turkish constitutional referendum. The gathering was then canceled by the host.
The event featuring Muhammet Aydin, a member of the Turkish President Recep Tayyip Erdogan's Justice and Development Party (AKP) was scheduled to take place Saturday. The head of the Upper Austria regional police department, Andreas Pilsl, said that "there are no legal grounds" to ban such a meeting if it doesn't violate any law or threaten public order. Police will "monitor developments," he added.
Read more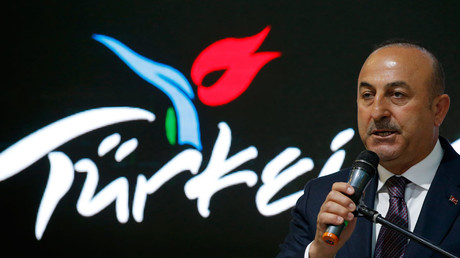 Linz police spokesman told Reuters that the meeting cannot be banned since "there are no concerns that public order might be disturbed or criminal acts committed."
"The fact is that police cannot act just because the public debate goes in the direction of wanting the police to get active in this matter. If you want the police to get active, you have to change the law," he added.
While the city's law enforcement and local authorities gave a green light for the meeting, it was cancelled by the Bosniak association (NUR), which was supposed to host it. "There was a misunderstanding. We had not known that it was about a political meeting, we do not want it," a spokeswoman for the organization said, as cited by the Kurier newspaper.
Meanwhile, Karl Hehle, the mayor of the small town of Hoerbranz in western Austria, has banned a meeting of the Turkish MP Muhammet Aydin and Turkey's former energy minister, Taner Yildiz, with the Turks living in the town. Hehle said that the event threatens public order and security.
The event, which was due to be held in a hall owned by the municipality, was organized "not by an association, not by a party" but by "a private individual from a neighboring community" and was declared to be a book presentation, Hehle said, as reported by the Austrian Der Standard daily.
He also stressed that the municipal authorities were neither informed about the fact that the meeting would be attended by Turkish officials, nor about the real topics of discussion. The mayor added that he banned the meeting as soon as he was informed about the real nature of the gathering.
A local MP, Vahide Aydin, called the ban a "right" decision and said that the meeting could be used to pass along a "one-sided message" to the Turkish citizens living in Austria.
Read more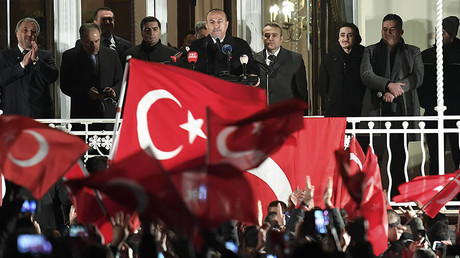 Turkish law forbids the organization of electoral campaigns abroad or in diplomatic missions. However, Turkish officials circumvent this ban by holding what they describe as cultural events with Turkish citizens living in other countries.
According to his Facebook page, Aydin, who should have taken part in the two canceled meetings, also plans to attend such events in the town of Herzogenburg in Lower Austria and in Vienna on Sunday.
"It seems as if we're dealing with a case of proper [electoral] campaign tourism through Europe," the Linz police spokesman said, commenting on such a practice.
In the meantime, the acting head of the regional government of Upper Austria, Thomas Stelzer, called on the Austrian government to introduce changes in Austrian laws to stop this "electoral campaign tourism throughout Austria."
"Upper Austria has nothing to do with political and electoral [campaign] events of other states," he said, as cited by Der Standard. His words come soon after the Austrian interior minister said he is willing to introduce changes to the law.
Earlier in March, a similar situation has led to a bitter argument between Turkey and Germany after two events featuring Turkish officials were canceled by German local authorities, citing security reasons.
At that time, Erdogan slammed German local authorities for "aiding and abetting terror," provoking an angry reaction from Berlin, which called his statements "absurd."
The Turkish referendum scheduled for April 16 will propose amendments to the constitution that will make Erdogan the sole executive head of state, with the authority to choose his own cabinet ministers, enact laws, call elections and declare states of emergency.