11 rioters arrested after hurling rocks at police and TV crew during Swedish school brawl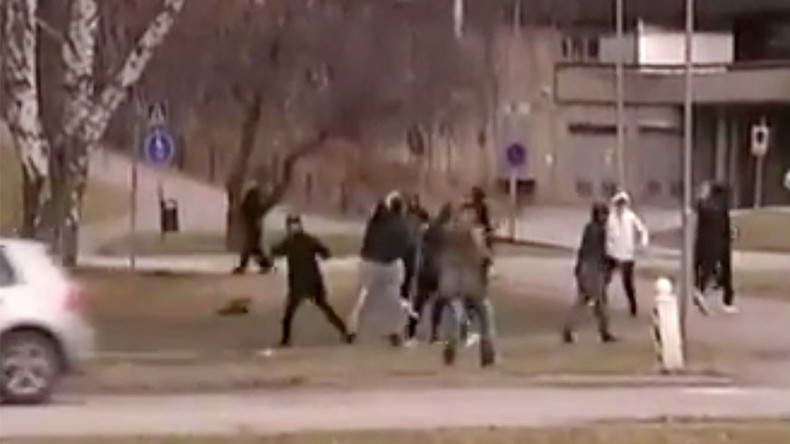 Police have arrested 11 people on suspicion of rioting after a mass brawl broke out at a school in Hallsberg, Sweden. Local media reported the rioters were migrants.
Smartphone footage of the brawl emerged online, showing young people throwing rocks both inside and outside the school.
A total of 30 people took part in the brawl, which occurred on Monday, Sveriges Radio reported, citing police. They were all wearing hoods and threw stones at the officers, who were called to the scene of the Alléskolan school after reports of a disturbance.
"We have sent a number of police patrols there, and I believe we have dispelled the large gang into smaller groups. [The rioters] disguised themselves, armed themselves with stones they threw at the police. It has been described as a riot-like situation," the news outlet said, citing Hallsberg Police spokesman Stefan Dangardt.
READ MORE: Sweden charges 5 teenage refugees with beating, gang-raping boy for over an hour
Following the brawl, at least eleven people were arrested on suspicion of attempted aggravated assault and riot. No one was injured, police said. Students at Alléskolan were urged to stay indoors until the situation calmed down.
Monday's events may be a continuation of an incident that took place at the same school on Friday, when another brawl took place in the school yard, resulting in the school building being vandalized, police said.
According to police and school authorities, most of the rioters were not pupils of the school.
"There are many speculations and rumors, but what we know is that most of those who came here last Friday do not belong to the school. They are not the school's pupils, nor are those who were here [on Monday]," Marie Kilk, director of education at Alléskolan, said.
Media reports claim the rioters were migrants. Swedish SVT reported that the brawl initially broke out between two different immigrant groups, who then started attacking police after they arrived at the scene, as well as reporters from SVT.
"Something must have happened on Friday that became the basis for what was going on [on Monday]," Dangardt told the press.
Fria Tider news outlet also reported that the rioters were migrants, citing 54-year-old Hallsberg resident Claes Marten, who was an eyewitness to Monday's brawl.
"What lies behind the incident is a brawl between different immigrant groups that have emerged here in Hallsberg. They came [to Hallsberg] relatively recently. Some of them go to Alléskolan school," he told the press.
During Monday's events, he drove around the school grounds and filmed the events in a video he broadcast live on Facebook. Claes filmed both groups of hooded young people exiting from the site to neighboring streets, as well as police in helmets chasing them.
"They had hoods on, but it was a mixed crowd. Some were small and dark-skinned," says Claes, whose son also goes to Alléskolan, adding that the town has changed drastically in a very short time.
"Normally, nothing happens in Hallsberg, it is a very quiet community. We are not accustomed to this kind of problem, this is all new to us. Sweden is about to be rented, it is a very sad development," he said.
Both Friday's and Monday's events are being investigated.
The Hallsberg riots are not the first migrant-related disturbances in Sweden of late. On February 21, between 30 and 50 people took part in unrest which broke out in the Stockholm suburb of Rinkeby, resulting in several burned cars, aggravated thefts and assaults. It is unclear if any immigrants were involved in that incident, and no one was arrested, but the neighborhood is known to have a dense migrant population.
You can share this story on social media: