#SaveOurWolves: Norway's move to allow recreational killing of wolves outrages activists
Published time: 5 Mar, 2017 15:20
Edited time: 6 Mar, 2017 10:16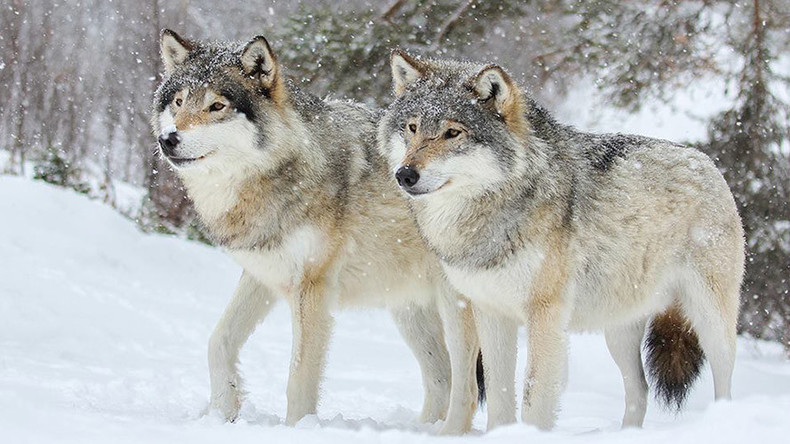 The World Wide Fund for Nature (WWF) has lashed out at Norway's government, which has recently paved the way for recreational hunting of wolves, which are endangered in Scandinavia.
Climate and Environment Minister Vidar Helgesen presented a draft law which allows more possibilities for killing wolves. The current law states that wolves can be killed only if they represent a "potential nuisance" for sheep or other livestock.
Now hunters will be allowed to kill wolves for "for recreational and cultural considerations," local media report.
On Friday, Helgesen said at a press conference in Oslo that it was impossible to say exactly how many wolves were to be killed.
"It's a decision that makes it possible to take out a small number. What is a small number? This is arbitrary," he said.
WWF-Norway's CEO Nina Jensen slammed the move, calling it "one of the ugliest examples of Norwegian nature management in modern history."
"It is beyond comprehension that one would change an established law in order to shoot more endangered animals, particularly in a country like Norway, which strives to keep an environmental profile."
The WWF is worried about "what effect this might have for other vulnerable and endangered species in Norway," she said.
According to Jensen, in practice, the law would mean that "regional management authorities can increase the current quota of wolves earmarked for culling – even if the requirement that the wolves have caused damage to grazers is not fulfilled."
The WWF has launched the hashtag #Saveourwolves on Twitter. People on social media also criticized the draft law, calling the government "brutal and cynical."
"What's happening in Norway? Shame on you, stop [listening] to these egoists," one person wrote, while another added: "We have to let nature live."
"They [the government] won't rest until everything is dead," noted one more person.
Ola Elvestuen, a politician for the Liberal Party, also slammed the draft, saying that the party would fight it, according to his Facebook post.
Wolves are not considered threatened globally, but some regional populations, such as the one in the western-central Alps, are classified as endangered. The population size is Scandinavia is about 130-150 wolves, according to the International Union for Conservation of Nature (IUCN) Red List.
According to Rovdata, a Norwegian agency which monitors predators, 65-68 wolves were recorded in the country in 2015-2016.