'Sir Nigel Farage' explains dinner date with US president & takes 'Trump Chum' quiz on RT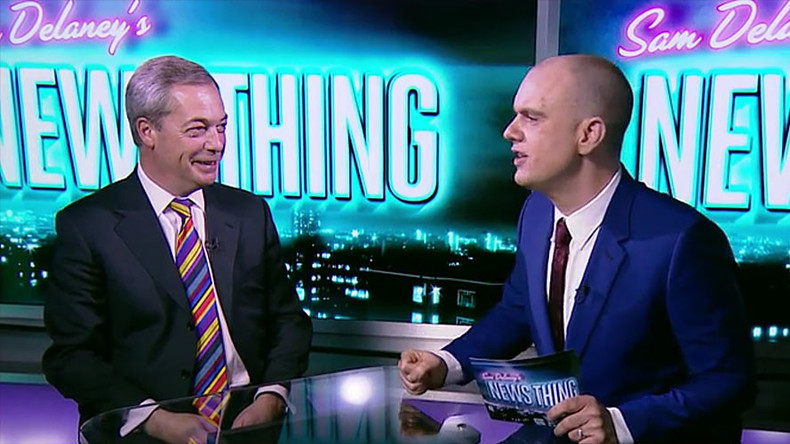 The former UKIP leader has revealed the events leading up to his dinner engagement with Trump, explained why peace with Muslims is important and insisted he is not "gagging" for knighthood as he appeared on RT's News Thing.
Nigel Farage, the face of the Brexit campaign, told host Sam Delaney about his "unplanned" dinner with the president last month which whipped up a media frenzy when Farage posted a selfie of the occasion online.
Farage explained he missed his flight home after a tricky meeting at the White House where it took him two hours to be cleared by security.
He went back to his accommodation at the Trump Hotel and was sitting at the bar when Trump walked in. The president questioned why Farage was there to which he replied, "You told me this is the best hotel in world – I'm staying there," the MEP recalled. Trump then invited Farage to join his table where the Brit feasted on prawns and salmon, and Trump paid the tips afterward.
"He's one of the few people I've ever met that makes me feel like an introvert," Farage, who is well-known for his provocative remarks, said.
Farage stopped short of divulging the details of the conversation at the dinner table, however.
"The world… I can't say. You know what, for him, it was an evening off. He was having a laugh. He was having fun. You can like his politics, you can hate his politics, but he's a larger than life person."
READ MORE: 'Dinner with The Donald:' Farage boasts of cozying up to US president… despite getting no invitation
Farage and Trump have both adopted similar hardline stances on immigration and the former UKIP leader has been vocal in his support of the US president's controversial "muslim ban."
However, he insisted during the interview that he does not want to go to war with Muslims and highlighted the importance of education around multiculturalism in the classroom.
"The one thing I don't want us to along with… is that we go to war with the religion of Islam. We'll stir up horrible problems for our kids coming down the track. So, I want us to work with the Muslim community to make sure that the good guys are all on our side," he said.
The former UKIP leader also brushed off media speculation that was he pushing for the Queen to grant him a knighthood.
"I'm not gagging for knighthood. I was approached by a group of people, who said that we're going to lobby for you to become a peer; to become a lord. And I said: 'Don't waste your time, I wouldn't accept it anyway," he explained.
READ MORE: Farage knighted in RT studios after being snubbed by actual Queen (VIDEO)
He did object, however, to the perceived bias in the granting of CBE's (Commander of the Most Excellent Order of the British Empire) noting that nobody on the Leave side of the Brexit campaign received the Queen's honor.
"The whole of [ex-UK prime minister David] Cameron's office, they've all got CBEs, peerages, knighthoods. Unbelievable! Nobody on the Leave campaign got any recognition, at all. Not one person."
Luckily for Farage though, RT was on hand to 'knight' the politician in a mock ceremony. The special moment may have been soured, however, when the five-year-old girl performing the honor twisted the dagger with the comment; "My mommy says you hate foreigners."