UK foreign secretary to visit Moscow 'in coming weeks' to discuss bilateral ties, Syria, Ukraine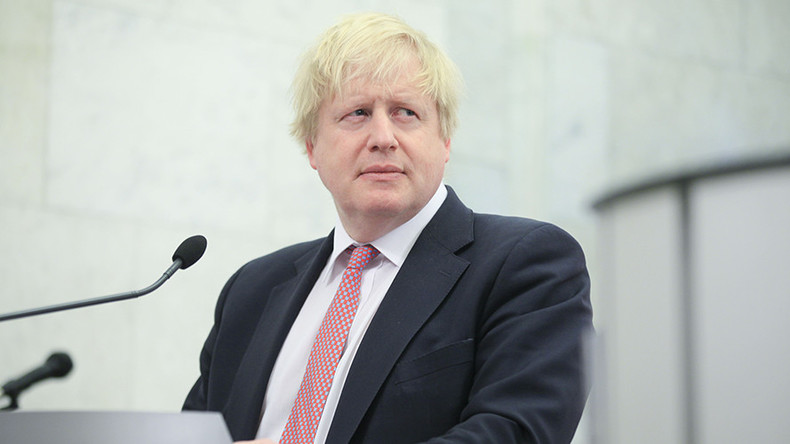 UK Foreign Secretary Boris Johnson will visit Moscow in the coming weeks to meet his Russian counterpart, Sergey Lavrov, the UK Foreign Office reported.
Johnson and Lavrov will discuss the strained bilateral relations between the UK and Russia, as well as matters of international politics, including the crises in Syria and Ukraine, a spokeswoman for the Foreign and Commonwealth Office (FCO) said.
London stressed that the visit should not be interpreted as "a return to business as usual," but said that engaging Russia was in Britain's national interest.
Alexander Yakovenko, Russian ambassador to the UK, stressed the importance of dialogue between two countries on "international and bilateral issues."
The visit has been in the pipeline for some time, with UK Prime Minister Theresa May and Russian President Vladimir Putin discussing it during a meeting in China last September.
READ MORE: 'Shortsighted & nonviable': UK's lack of dialogue with Russia slammed in new parliamentary report
Relations between Russia and the UK have been rather tense for years over a number of issues, and have not taken a turn for the better under the May cabinet. Johnson in particular accused Russia of committing war crimes in Syria in connection with Moscow's support of Damascus during the campaign to oust jihadist groups from Aleppo.
A lack of any meaningful dialogue with Russia on the part of the FCO was criticized recently by the Parliament's Foreign Affairs Committee, which stated: "Refusal to engage with the Russian government is... not a viable long-term foreign policy option for the UK, because Russia is a European nuclear-armed United Nations Security Council member state."
Moscow has for years insisted that it was open for dialogue with London, as long as it was willing to treat Russia as an equal partner, rather than lecture on perceived Russian wrongdoing.
You can share this story on social media: