French teacher suspended, probed after allegedly reading Bible to students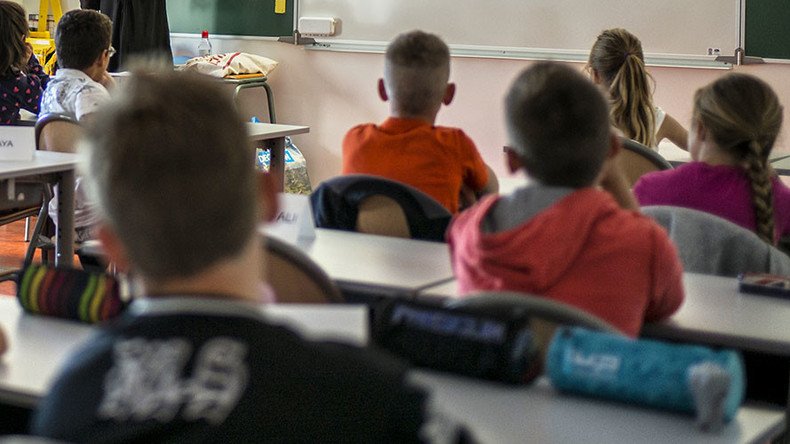 A French primary school teacher has been temporarily suspended after reportedly reading passages from the Bible to his students. The suspension has sparked a debate on whether he violated the principles of secularism.
The incident took place in Indre department in central France, according to France Bleu, which initially reported the story.
The 40-year-old teacher, whose name has not yet been revealed, was reportedly working in a school that covered four small communes – Badecon-le-Pin, Chavin, Malicornay, and Le Menoux.
In January, an anonymous letter to Pierre-François Gachet, Indre academic director, from "a team of parents" of primary school students, denounced the "proselytism" of the teacher, French La Croix newspaper reported.
He allegedly read some passages from the Bible to primary school students, the letter claimed.
The teacher (several French outlets also call him a professor) was temporarily suspended and an inquiry into his teaching methods was launched, Gachet said. The results of the investigation will be known "before mid-March," he added.
The aim of the inquiry is to "to determine whether the professor has poured into proselytism or whether he simply lacked discernment," said Gachet. "At the very least, he showed a very strong taste for religious teaching."
According to La Croix, the teacher instructed his students to study six pages from the Book of Exodus, as well as several passages from a book entitled Christianity through Texts.
He showed a film about the life of Moses, as well as the film The Gospel According to St. Matthew by Italian director Pier Paolo Pasolini.
The teacher also conducted rehearsals with the school choir in the church "for acoustic reasons," Le Croix reported, adding that it was not a religious repertoire.
"During the meeting at the beginning of the year, the professor told us that the class would study Harry Potter as much as the Bible, to discover literature, civilization, history," a mother of one student told La Croix, "No parent objected."
Gachet is planning to meet the parents of the students later on Friday.
The decision to suspend the teacher was considered "oppressive and stigmatizing" by Christian Chevalier, secretary general of the Teachers Union Se-UNSA, La Croix reported.
For the mayor of Badecon le Pin, François Broggi, the actions of the teacher deserved only a "warning," not suspension, AFP reported.
Broggi described the man as "an excellent" teacher "who has energized this class beyond class hours, in particular by organizing qualified extracurricular activities, offering travel and patriotic ceremonies."
France follows the principles of laïcité (secularism) and keeps religion separate from the executive, judicial, and legislative branches of government.
In 2004, France banned the wearing of conspicuous religious symbols in French public primary and secondary schools. The law does not mention any particular symbols, but bans all religious symbols.
You can share this story on social media: