'Nativity war': Baby Jesus to be allowed in French town halls, despite secularists' complaints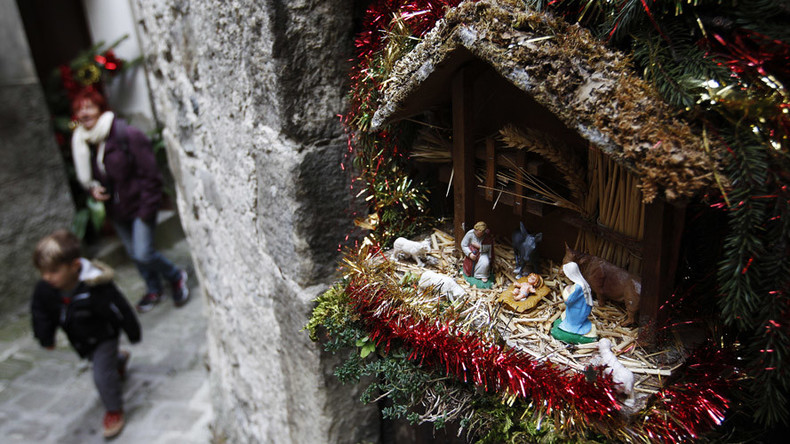 Baby Jesus, as well as Mary, Joseph, and the three wise men will be allowed in French public places this Christmas, but on several conditions, a court ruled. Secularists have long argued that it is against a 1905 law on separation of church and state.
A French administrative court (Conseil d'Etat) gave the green light to installations devoted to Baby Jesus in public buildings such as town halls at Christmas. The installations are permitted only if they serve "cultural, artistic or festive" purposes, and show no preference for a religion, according to the court's statement on Wednesday.
"Nativity scenes have a variety of meanings: they have a religious meaning but are also a decorative element during the end of the year holidays," the court said.
In order to rule on whether an installation can stay in a public place, "the display needs to be contextualized, taking into account the particular circumstances in which it is done, the existence or the absence of local traditions and the location of the display," the statement explains.
The court's decision comes as the culmination of an annual pre-Christmas season debate in France dubbed the "nativity war." Secularist groups have been campaigning against any Christmas scene installations in public places, saying that they are in violation of a 1905 law on the separation of church and state.
The "war" has apparently not ended with the court's decision, as The Union of Secular Families has lashed out at the French justice for "violation of the neutrality in the public sphere," according to the organization's statement on Facebook.

This year's row over Baby Jesus installations started over those installed at Vendée department, western France, and in Melun commune in the southeastern suburbs of Paris.
Those particular installations were ruled illegal, as they do not meet "cultural, artistic or festive" conditions.
France follows the principles of laïcité (secularism) and keeps religion separate from the executive, judicial, and legislative branches of government.
In 2004, France banned the wearing of conspicuous religious symbols in French public primary and secondary schools. The law does not mention any particular symbols, and thus bans all Christian, Muslim, Jewish, and other religions' symbols.
Secularism rows have been going on in France since August, when several cities and towns banned the burkini, swimwear designed specifically for Muslim women. The ban was supported by Prime Minister Manuel Valls. In August, he even poured more oil onto the controversy over Islamic clothing in public places when he appeared to suggest that head-to-toe clothing worn by Muslim women contravened the French spirit.
"Marianne has bare breasts because she feeds the people, she does not wear a headscarf because she is free!" Valls told a group of supporters during a public speech. "That's the Republic!"