Putin: 'Inappropriate' to introduce new sanctions against Syria govt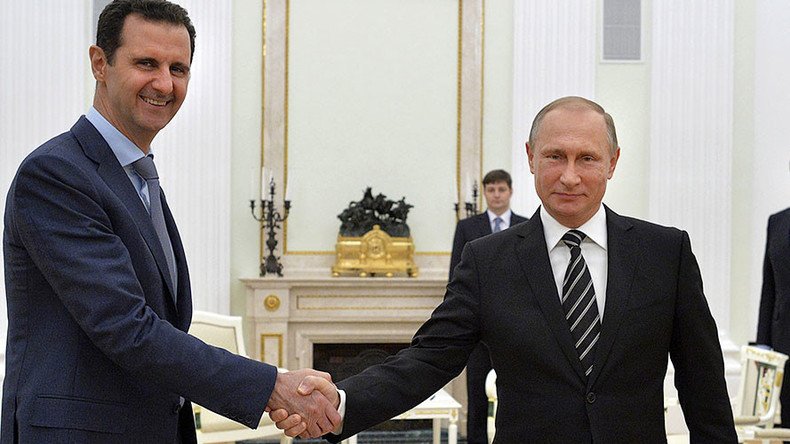 Russia considers it inappropriate to introduce new sanctions against Syria and will not support such a proposal, President Vladimir Putin has stated.
"As for sanctions against the Syrian leadership, I think the move is totally inappropriate now. It does not help, would not help the negotiation process. It would only hurt or undermine confidence during the process," he said.
The UN Security Council will vote on Tuesday on a proposal by Western powers to ban the supply of helicopters to the Syrian government, and to blacklist Syrian military commanders over allegations of toxic gas attacks.
Russia had previously promised to veto the move.
READ MORE: New round of Syria talks kicks off in Geneva on back of Astana progress
Meanwhile, a new round of UN-sponsored Syria peace talks between the warring sides kicked off in Geneva last week. Saying that he is not expecting a breakthrough, UN envoy Staffan de Mistura said he was nonetheless determined not to lose the momentum towards a resolution.
Although the liberation of the city of Aleppo and the loss of key territories by Islamist rebels have tipped the balance in the Syrian conflict, potential disagreements could arise over the opposition's continued insistence that the fate of the Syrian government of President Bashar Assad be settled as a precondition – something that is not currently on the table.
Russia announced that it has asked the Syrian government to halt all military operations for the duration of the talks, while other countries were expected to deliver the same message to the rebels.
The last round of the Geneva talks was broken off nine months ago amid a sharp escalation in hostilities.
Bashar al-Jaafari, the Syrian government's negotiator at the Geneva talks, warned on Saturday that Damascus will view opposition groups that refuse to condemn the deadly suicides attacks in Homs as accomplices of terrorists.
At least 50 people were killed and 24 others were injured in six suicide bombings outside military facilities in the city of Homs on Saturday, SANA news agency reported, citing Syria's Foreign Ministry.
Al-Nusra Front terrorist group, which renamed itself Jabhat Fateh al-Sham, has claimed responsibility for the attack.
In another comment on the attack, Ja'afari said that "the terrorist explosions that hit Homs city are a message to Geneva from sponsors of terrorism, and we tell everyone that the message is received and this crime won't pass unnoticed."
You can share this story on social media: