French National Front convoy attacked on way to rally (VIDEO, PHOTOS)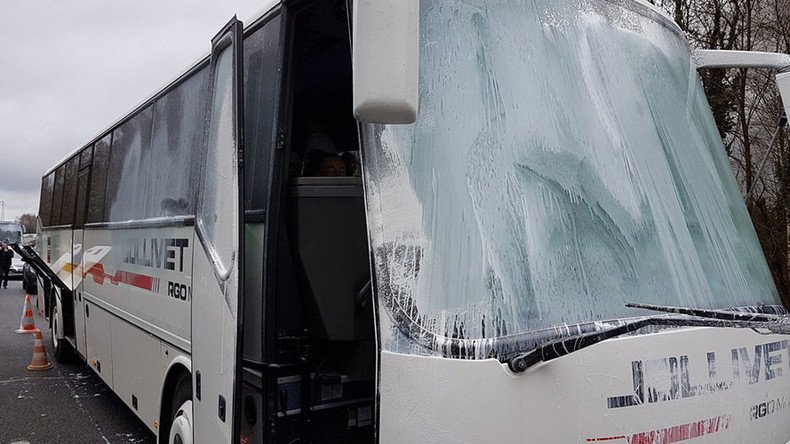 Roughly 50 protesters have blocked convoy and ambushed carrying members of the far-right National Front Party (FN) approximately 20km from Nantes, France.
"Three buses, two from Rennes and one from Vitré, were attacked, there was a roadblock, the road was blocked, and they burned tires," said Emeric Salmon, a FN councillor for the Bretagne region said, as reported by France 3.
Paint was thrown at the windshield of one bus, which had to be escorted by the gendarmerie after the assault.
"They threw paint as you can see, and they damaged the coach, pulling out the wiper blades," Alda Pereira one of the coach drivers described the attack in an interview with 20minutes. She explained how she and several of her colleagues were struck with sticks and metal rods by the protesters.
Traffic was stopped on routes between Rennes and Nantes from 1pm with protesters burning wooden pallets and tires forcing major transport arteries into the city to shut down.
There were sporadic outbreaks of violence at protests held yesterday throughout the city ahead of the National Front meeting today.
There was a strong police presence throughout the day around the Zenith in Nantes where the controversial, far-right presidential candidate Marine Le Pen held a rally. The first round of the French presidential election is scheduled to take place on April 23.
You can share this story on social media: