Freedom & Islam 'not compatible,' says far-right Dutch politician Geert Wilders
Far-right Dutch politician Geert Wilders has stated that Islam and freedom are "not compatible," slamming his country for "importing" those who follow the religion.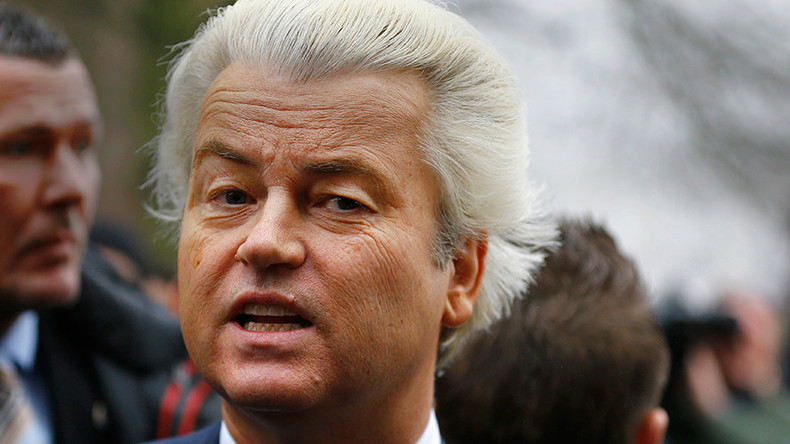 "Dutch values are based on Christianity, on Judaism, on humanism. Islam and freedom are not compatible," the Freedom Party politician told USA Today.
"You see it in almost every country where it dominates. There is a total lack of freedom, civil society, rule of law, middle class; journalists, gays, apostates — they are all in trouble in those places. And we import it."
He went on to accuse Dutch society of being afraid to stand up against Islamic ideology.
"For a long time, our society has been afraid to say, 'No, this is our Dutch culture, we don't treat women like that,' and anyone who did was labelled a racist or bigot or hate-monger, and they are not," Wilders said. "They just believe we should be more proud of who we are."
Wilders, who has become known for his controversial rhetoric and hailing Donald Trump's victory in the US as a "patriotic spring," is advocating for all mosques to be closed in the Netherlands. He also wants to ban the Koran and seal the nation's borders to asylum seekers and migrants from Islamic countries.
"On Islam, it is true that I am tough. Perhaps tougher than I should be if my only aim was to get votes," Wilders said. "But I really believe in what I say, that the Islamic ideology is this huge threat."
Wilders and his Freedom Party are expected to come in first in the national election on March 15, December polls showed. But despite expressing a desire to be the country's next prime minister, such chances are unlikely. Based on the Netherlands' multiparty system, Wilders would have to form a governing coalition with other parties, most of which have ruled out that possibility.
Even so, Wilders said that even if he loses the election, "the genie will not go back in the bottle again."
"People are fed up with the combination of mass immigration, Islamization and austerity measures that require us to cut pensions and support for healthcare and the elderly while giving (debt bailout) money to Greece and the eurozone," he said.
"People are not satisfied. They feel misrepresented," Wilders added. "The process of a 'patriotic spring' won't be stopped."
Wilders' comments come just days after he targeted so-called "Moroccan scum" in his election campaign launch.
READ MORE: Far-right Wilders targets 'Moroccan scum' in his election campaign launch in the Netherlands (VIDEO)
It's far from the first time that Wilders has targeted Moroccans. He was convicted of discrimination and inciting hatred by a Dutch court in December after calling for "Fewer! Fewer! Fewer!" Moroccans in the country, as well as calling them "scum."
Wilders has also compared the Koran to Hitler's 'Mein Kampf.'
The politician has repeatedly come under fire in the Netherlands, a country known for its liberal approach to topics ranging from marijuana and prostitution to euthanasia.
The politician has vowed to continue his mission, but said he wouldn't wish his cautious lifestyle on his "worst enemy."
"I can't even go on a spontaneous walk or to a restaurant without armored cars and police, but there is no alternative," Wilders said. "If I stop or moderate my voice, people who use or threaten violence against democracies would win. I will never let them win."
The upcoming general elections in the Netherlands are being watched closely by other countries across the European Union as a sign of the growing spread of populism throughout the bloc – particularly following the UK's Brexit referendum, which saw the country vote to leave the EU.
German Vice Chancellor and Economy Minister Sigmar Gabriel warned last month that the EU could "fall apart" if populist parties gain power in the upcoming Dutch or French elections.
However, Germany is not immune from the populist sentiment sweeping the continent. The anti-immigrant Alternative for Germany (AfD) has been gaining support following the refugee crisis, which saw more than 1 million asylum seekers enter the country in 2015.
You can share this story on social media: