Amnesty condemns Trump's 'poisonous' rhetoric, rise of populism in annual report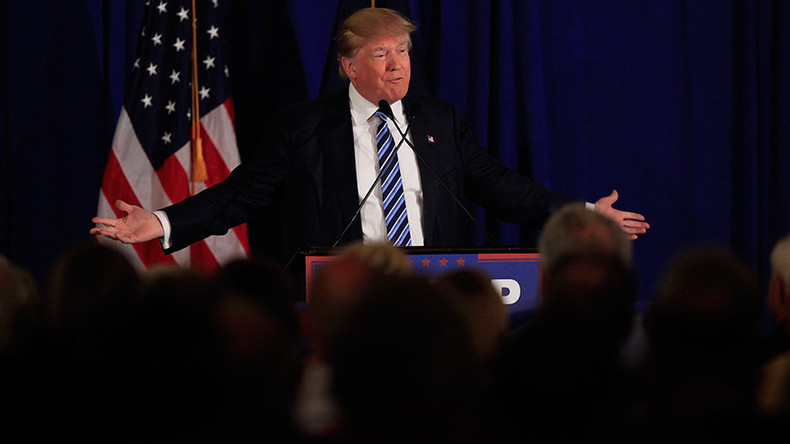 US President Donald Trump has been lambasted in Amnesty International's annual report. The NGO slammed Trump's "poisonous" election campaign and called the US vote one of the seismic political events of the past year.
"Donald Trump's poisonous campaign rhetoric exemplifies a global trend towards angrier and more divisive politics," the annual report on human rights from Amnesty International said.
Amnesty states that Trump's election as president was "the most prominent of many seismic events" on the political stage in 2016.
"His [Trump's] election followed a campaign during which he frequently made deeply divisive statements marked by misogyny and xenophobia, and pledged to roll back established civil liberties and introduce policies which would be profoundly inimical to human rights."
The document says that the early indications from Trump suggest "a foreign policy that will significantly undermine multilateral co-operation and usher in a new era of greater instability and mutual suspicion."
READ MORE: War between US media & Trump 'a waste of time for the American people'
One month into office, President Trump has been working hard to fulfill election promises. One of his first pieces of legislation was the controversial 'Muslim ban' which temporarily suspended the entry of travelers from seven mainly-Muslim nations. The ban prompted mass protests in America and worldwide, and was eventually blocked by US courts.
However, despite demonstrations, a recent Harvard-Harris poll, exclusive to the Hill, found strong support for overhauling immigration laws, with 77 percent backing comprehensive immigration reform against 23 percent who oppose reform. Now Trump wants to enforce the nation's immigration laws more aggressively and speed up deportations.
Rise of populism
In general, the world in 2016 became "a darker and more unstable place" partially due to "the rise of hate speech across large parts of Europe and the USA," Amnesty writes.
"The gap between imperative and action, and between rhetoric and reality, was stark and at times staggering."
According to Amnesty, political leaders across the world "wagered their future power on narratives of fear and disunity, pinning blame on the 'other' for the real or manufactured grievances of the electorate.
"Any overarching narrative seeking to explain the turbulent events of the past year is likely to be found wanting. But the reality is that we begin 2017 in a deeply unstable world full of trepidation and uncertainty about the future."
Concerns over the rise of populism have been increasingly loud in the West, and especially in Europe, where previously marginal parties have been gaining popularity amid economic problems and the migrant crisis.
Some countries in Europe, such as the UK and Hungary, have built fences to protect their borders from the large influx of asylum seekers.
Ahead of France's presidential elections in April and May, numerous polls suggest that right-wing National Front party leader Marine Le Pen is among the favorites.
Refugees
Amnesty also highlighted the global refugee crisis which "assumed still greater magnitude and urgency" during 2016.
The report says that while world leaders "failed to rise to the challenge," 75,000 refugees remained trapped between Syria and Jordan.
"The lack of solidarity with refugees and fellow EU member states was typical of the migration policies of most EU countries, which united in their plans to restrict entry and expedite return. This became apparent in the failure of the EU's flagship relocation scheme."
READ MORE: Pope slams 'populist rhetoric' towards asylum seekers
For millions 2016 was a year of "unrelenting misery and fear, as governments and armed groups abused human rights in a multitude of ways," according to the report.
Russia
The report also covered Russia, saying that President Vladimir Putin continued to "surf the wave of popularity generated by Russia's excursions in Ukraine" while restrictions on freedom of expression and peaceful assembly reportedly increased in the country in the past year. It also noted international accusations of alleged war crimes by Russian forces in Syria – allegations Moscow vehemently denies.
The Kremlin shrugged off the report, with Kremlin spokesperson Dmitry Peskov saying: "This is not the first report of the kind… and in this very case we disagree with all the conclusions drawn up here."