Pope slams 'populist rhetoric' towards asylum seekers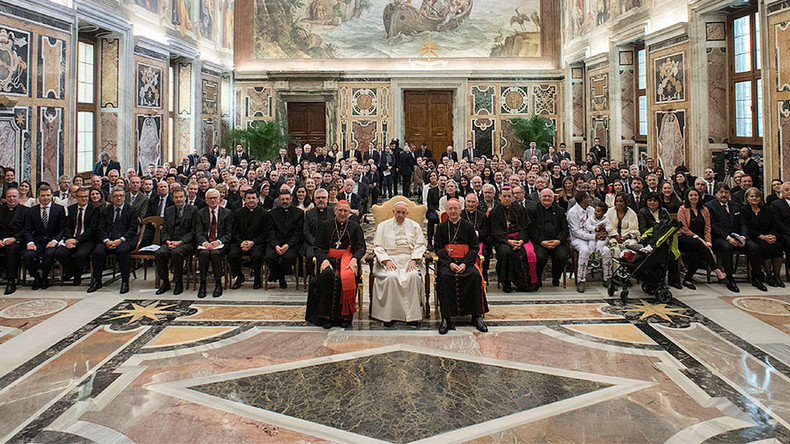 Pope Francis has slammed "populist rhetoric" and "self-centeredness" by some countries towards asylum seekers, adding that those who accept migrants should give them "a dignified welcome" and reject a policy of superimposing one culture over another.
Rejection of asylum seekers is "rooted ultimately in self-centeredness and amplified by populist rhetoric," said Pope Francis, speaking to participants at the International Forum on Migration and Peace in Rome on Tuesday.
"What is needed is a change of attitude, to overcome indifference and to counter fears with a generous approach of welcoming those who knock at our doors."
READ MORE: Pope warns against Hitler-like leaders coming to power on wave of populism
The pontiff called for people to provide "a responsible and dignified welcome" to asylum seekers.
"Unfortunately, in the majority of cases this movement is forced, caused by conflict, natural disasters, persecution, climate change, violence, extreme poverty and inhumane living conditions," he said.
According to the pontiff, for those who "flee conflicts and terrible persecutions, often trapped within the grip of criminal organizations who have no scruples, we need to open accessible and secure humanitarian channels.
"We are speaking about millions of migrant workers, male and female – and among these particularly men and women in irregular situations – of those exiled and seeking asylum, and of those who are victims of trafficking."
READ MORE: Pope Francis warns that popular nationalism can unleash 'epidemic of animosity'
The main duties of those who accept these migrants are "defending their inalienable rights, ensuring their fundamental freedoms and respecting their dignity," he said, adding that protecting "these brothers and sisters" is "a moral imperative."
Pope Francis also called upon countries which take in asylum seekers to help them integrate, without naming specific nations.
Concerns over the rise of populism have been increasingly loud in the West, and especially in Europe, where previously marginal parties have been gaining popularity amid economic problems and the migrant crisis.
Some countries in Europe, such as the UK and Hungary, have built fences to protect their borders from the large influx of asylum seekers.
The US also has been under fire after the controversial 'Muslim ban' introduced by President Donald Trump. The order temporarily suspended the entry of travelers from seven mainly-Muslim nations.
"Integration, which is neither assimilation nor incorporation, is a two-way process, rooted essentially in the joint recognition of the other's cultural richness: it is not the superimposing of one culture over another, nor mutual isolation, with the insidious and dangerous risk of creating ghettoes."
Those who accept refugees should have "a duty of justice, of civility and of solidarity" towards "our brothers and sisters who, for various reasons, have been forced to leave their homeland," the pontiff added.
READ MORE: 'Despised, exploited, enslaved': Pope Francis says govts push refugees into hands of traffickers
"In the face of tragedies which take the lives of so many migrants and refugees – conflicts, persecutions, forms of abuse, violence, death – expressions of empathy and compassion cannot help but spontaneously well-up."
The pontiff drew attention to particularly vulnerable young migrants. These people "are forced to live far from their homeland and… are separated from their loved ones," he said.
You can share this story on social media: