Teenage Syrian refugee on trial in Germany over ISIS bomb plot charges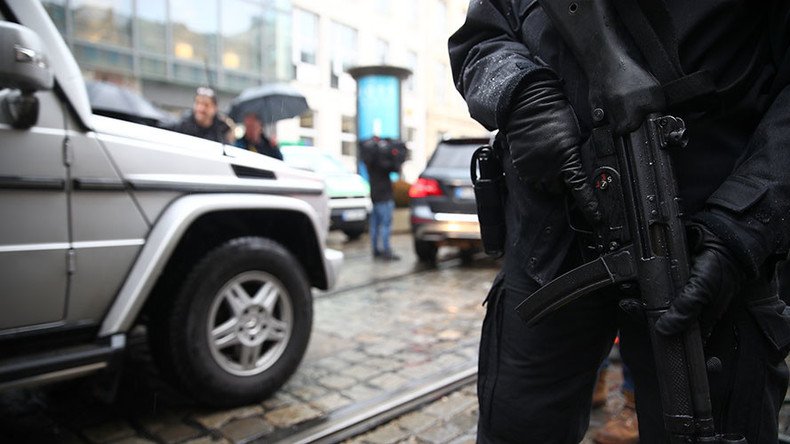 A 16-year-old Syrian refugee has gone on trial in the German city of Cologne over charges that he planned a bomb attack on behalf of Islamic State (IS, formerly ISIS/ISIL).
The teenager, identified only as "Mohammad J" by RTL News, was arrested at an asylum shelter in the city in September. Authorities described him as a "serious threat" at the time, according to AFP.
According to police, the 16-year-old's mobile phone showed he had been in touch with an IS contact abroad, and had expressed a willingness to carry out an attack.
READ MORE: Merkel: Moscow & West have common interest in fighting terrorism
Prosecutors speaking at the trial on Monday said that investigators also found online chat messages on the phone which included "concrete instructions" on how to build an explosive device.
Officers searching the teenager's accommodation discovered a battery pack, 70 sewing needles and several butane gas cartridges, all of which are items that could be used to prepare a bomb, DPA news agency reported, citing the charge sheet.
A court spokesman said Monday that the teenage boy must answer charges on "a serious act of violence threatening state security."
The trial at the district court in Cologne is scheduled to last until March 20. It is being held behind closed doors because the defendant is a minor.
If found guilty, the boy faces a maximum sentence of five years' detention under the juvenile penal code.
The defendant's lawyer, Michael Murat Sertsöz, said his client has been staying at a psychiatric clinic in recent weeks, according to RTL. However, it remains unclear whether he is mentally ill.
READ MORE: Anti-terrorist raid in German town triggered by 'fake' Facebook account
The teen and his family reportedly arrived in Germany in 2015, along with some 900,000 other migrants and refugees. He was brought to the attention of authorities after residents and employees at his refugee shelter, along with a local mosque, voiced concerns that he had been radicalized.
The trial comes less than two weeks after a German intelligence official warned that Islamist extremists are gaining ground "with impunity" in rural areas of eastern Germany, stating that authorities are "getting tip-offs leading to terrorist suspects every day."
German Vice Chancellor Sigmar Gabriel called for shutting down Salafist mosques across the country last month, stating that they "must be banned, the communities broken up, and the preachers expelled."
READ MORE: German police raid homes of 4 Turkish imams suspected of spying for Ankara
Salafism is rapidly growing in Germany, largely due to grants and other forms of support from Saudi Arabia and other Gulf countries.
The movement calls for returning to the fundamental roots of Islam, and states that it is incompatible with modern forms of society. It has been associated with radical Islamist groups, including IS.
German security services remain on high alert following a series of terrorist attacks claimed by IS, the deadliest of which saw 12 people killed at a Berlin Christmas market in December.
You can share this story on social media: