Merkel: Moscow & West have common interest in fighting terrorism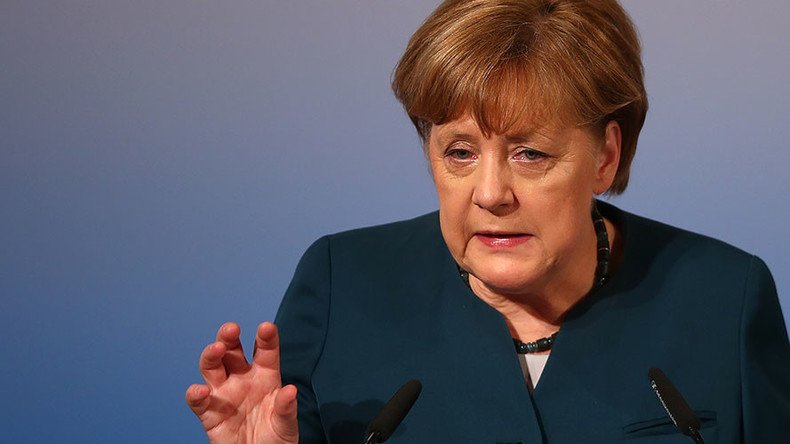 German Chancellor Angela Merkel has pledged to remain committed to improving relations with Russia despite disagreements. She added that Russia and the West have a common interest in fighting terrorism.
"Over the past 25 years, we haven't been able to establish stable relations with Russia, but Russia is our neighbor, it's an EU external border," Merkel said as cited by TASS news agency.
Merkel said she would not cease to be committed to maintaining good relations with Russia, despite differing opinions on various issues.
In particular, Merkel said, "it is important... to go on working in the framework of the Russia-NATO Council, and the common fight against Islamic terrorism."
The West and Russia have "the same interests" in the fight against terrorism, and can cooperate on this issue, Merkel added. The international community should draw a distinct line between the peaceful Islam, and Islamic terrorism, Merkel added, also saying that Muslim countries should participate in the fight, too.
Merkel also called for discussion on the idea of hybrid war at a session of the Russia-NATO Council.
The 1997 NATO-Russia Founding Act should stay in force, Merkel also said.
"It is essential not to give up on the Russia-NATO Act, even taking into account these difficult times."
"We have common interests on this, and should cooperate," she added.
The 1997 Founding Act states that Russia and NATO "will build together a lasting and inclusive peace in the Euro-Atlantic area on the principles of democracy and cooperative security," and specifically says that the two sides do not consider themselves adversaries.
Regarding the situation in eastern Ukraine, Merkel said she has not lost hope that the Minsk agreements will be implemented.
The chancellor said that the Minsk deal "is the only thing we have to continue the dialogue and create opportunities to solve problems. If we don't have anything else, we need to use what we have. I still have hope," Interfax cited the official as saying.
The situation in Ukraine should be solved through political means, the German chancellor reiterated.
"Nothing would be better if we could fight along with Russia against Islamic terrorism, have normal economic relations, work on a free trade zone, from Vladivostok to Lisbon, but we can't betray the territorial integrity of Ukraine. That's why we need a political decision, and I'm ready to give it much time and effort."
'EU wasn't ready for the inflow of refugees'
The EU wasn't ready for the inflow of refugees, "and a lot of things need to be changed to protect free movement," Merkel said, as quoted by TASS.
Merkel, however, believes in united Europe and is convinced that "today's challenges can't be overcome on one's own, cooperation and multi-national networks are needed," as cited by Interfax news agency.
Free trade and common currency are important to preserve, the German chancellor added.
"The EU has survived two deep financial crises. We introduced the new currency, but weren't prepared to solve crises, didn't develop defensive mechanisms for that currency."
"We have at the moment in the euro zone of course a problem with the value of the euro," Merkel told the Munich Security Conference. "The ECB has a monetary policy that is not geared to Germany, rather it is tailored (to countries) from Portugal to Slovenia or Slovakia. If we still had the (German) D-Mark it would surely have a different value than the euro does at the moment. But this is an independent monetary policy over which I have no influence as German chancellor."
In general, the EU "is going through hard times, living through the consequences of Brexit," she said.
You can share this story on social media: