Spain's Princess Cristina acquitted in fraud case, husband jailed for 6 years
Published time: 17 Feb, 2017 13:37
Edited time: 19 Feb, 2017 14:15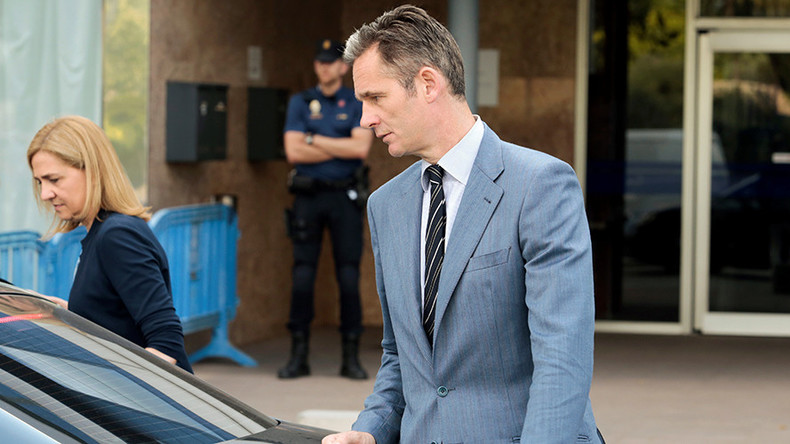 The sister of the Spanish king has been acquitted of being an accessory to tax fraud at the end of a landmark trial which saw Princess Cristina's husband sentenced to over six years in prison on charges including fraud, tax evasion and embezzlement.
Despite being acquitted, the princess was charged €265,000 for 'civil liability' – a more lenient punishment than the potential sentence of up to eight years if found guilty. Her husband, Inaki Urdangarin, must also pay a €500,000 fine.
King Felipe's 51-year-old sister and her husband were among 18 defendants in the year-long trial following a probe into the Noos Institute, a not-for-profit charity run by Urdangarin.
Urdangarin and business partner Diego Torres were accused of embezzling €6 million paid to the charity, which was diverted to a private company and used to fund their lifestyles. Torres received an eight year sentence.
The 18 suspects faced a combined 89 charges including those relating to fraud, money laundering and the use of undue of influence.
The case further soured public opinion of the Spanish royal family. King Felipe, who was crowned following his father Juan Carlos' abdication in 2014, stripped his sister of her title of Duchess of Palma before the trial began in 2015.
During questioning in 2014, Cristina replied "I don't know" 188 times, and "I don't remember" 55 times.
Neither Urdangarin nor the princess were at the Palma de Mallorca court for the verdict, both were said to be in Geneva.