'Morally wrong' for image of Russian envoy killing to win photo of year award – jury chair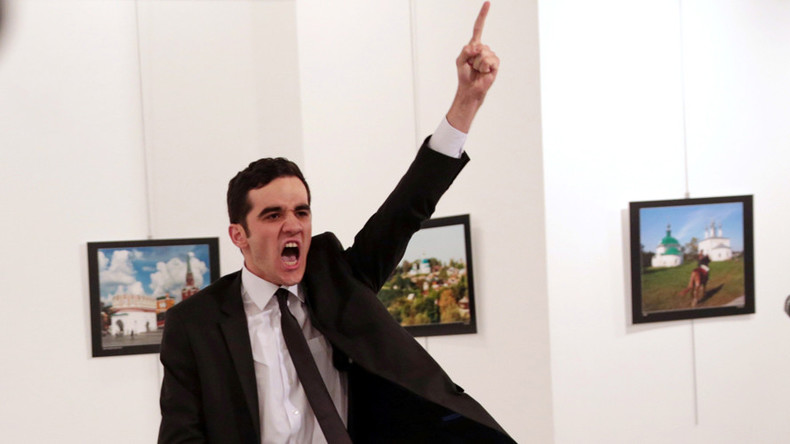 It was "morally completely wrong" to choose an image of the Russian ambassador to Turkey's assassination as photo of the year, believes the chair of the World Press Photo 2017 awards, who says the decision "seems to advance the intentions of a terrorist."
The image showing the assassin, Mevlüt Mert Altıntaş, standing and shouting by the body of the killed Russian ambassador to Turkey, Andrey Karlov, was captured by AP photographer Burhan Ozbilici.
The picture received the photo of the year award from the World Press Photo Foundation, an independent group based in Amsterdam, the Netherlands, on Monday.
Having that particular picture "as a sort of flagship photograph of the year for World Press Photo" was "a terrible idea," jury chair Stuart Franklin told RT. Franklin himself did not vote for the image.
"It made no sense at all. It crossed the moral and ethical boundaries that I'd calculated. In the world of journalism we always have to sort of balance issues like censorship or not showing the truth or what's going on with deeper moral concerns about what we are actually showing or talking about," Franklin said.
He added that there was no denying Ozbilici's photos were "a very powerful set of pictures in the spot news category." But when it came to the photo of the year nomination, "it just didn't make any sense."
"A number of thoughts went through my mind: supposing it was an American ambassador, a Dutch ambassador or Australian ambassador. Would the calculations have been the same?"
According to Franklin, it was "morally completely wrong to have a photograph that seems to advance the intentions of a terrorist who was in front of the press at a press conference assassinating an ambassador.
"Yes, fine, it was news at the time. Terrible news. But, you know, to now celebrate it as a photo of the year is deeply inappropriate."
'Sick & immoral' vs 'an incredible historic document'
The controversial photo sparked heated discussions across social media platforms, with some saying that it is totally immoral to judge an image of a murder as photo of the year.
@AP So we are simply going to glorify cold-blooded murders now? I see we have all lost our sense of decency.

— BAKER (@realbakerbaker) February 13, 2017
Some people's thoughts turned to how Andrey Karlov's family may have reacted to the news of the award.
Or how people would react if the victim were a member of their family.
The award would be a boost for terrorists, commenters said.
@drwhatt@AP By attaching a reward, Jihadist's will see that as a win justifying their cause. It's stupid people don't understand that.

— Ben (@Benni__30) February 13, 2017
Some perceived the results of the photo contest as a type of provocation.
@AP DISGUSTING propaganda! Anti-civilizational, pro-terrorism and last but not least, obviously anti-Russian. SHAME ON YOU!

— Really? (@manemoguceje) February 13, 2017
Some, however, supported the World Press Photo group, saying that the picture is "an incredible Historic document."
Some people admitted that the photo was indeed powerful, but that it shouldn't have received an award.
@drwhatt@AP I understand that & I respect him, But this photo should not have any reward attached to it.

— Ben (@Benni__30) February 13, 2017
You can share this story on social media: