Reporter attacked, 2 cars burned out as anti-police protests rage on in Paris suburbs (VIDEO)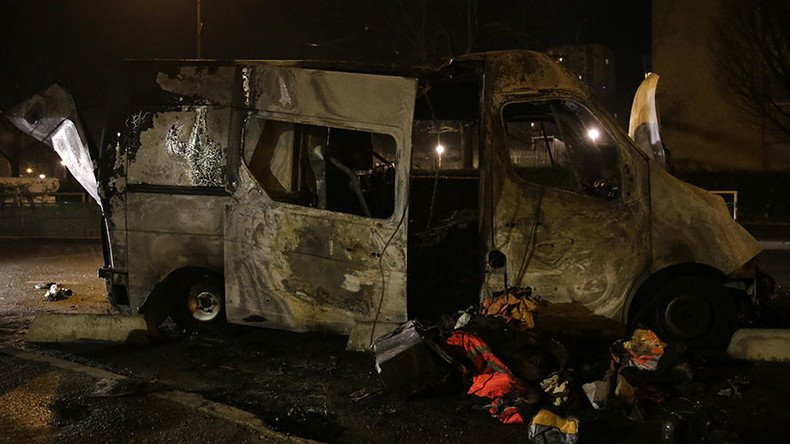 The Paris suburb of Argenteuil saw violent scenes and arrests as dozens of people took to streets to protest police brutality, as the "accidental" sexual assault of a 22-year-old man by a police officer continued to rile up French youth.
READ MORE: Car set alight in Paris suburb during anti-police protest (PHOTOS)
Some 50 young people gathered at Maurice Utrillo avenue in the center of Argenteuil on Sunday evening, Le Parisien reported.
The gathering was reportedly called via Facebook, with the alleged intention to copycat the November 2005 riots. Dubbed "the French Intifada," the mass violent riots at the time were triggered by the death of two teenagers with immigrant background, who got electrocuted while hiding from police allegedly chasing them for interrogation in an eastern Paris suburb.
Witnesses reported that the young people in Argenteuil were armed with iron bars and started lighting fires. Thick smoke soon covered the scene.

Several police units with as many as 90 officers in total were promptly dispatched at around 5pm local time.
A BFM-TV journalist has been reportedly assaulted while covering the protests. A video on Twitter shows a man squatting on the pavement apparently after being attacked.
At least two cars were set on fire, as well as a number of garbage bins.
A bus driver was hospitalized with a head injury, according to Le Parisien. A bus stop and a bus were stoned, according to the mayor's office.
At around 8:15pm the crowd seems to have dispersed, while police blocked some of the streets to prevent protesters from regrouping. At least 11 arrests were made.

Similar protests have been taking place in various cities and towns in France over the weekend.
On Saturday, the neighboring commune of Bobigny saw a mass protest during which an RTL van was set on fire, windows were smashed and stores were looted.
The riots have been sparked by a disturbing incident in which a 22-year-old black man, identified only as Theo, was sexually attacked with a baton by a police officer during a violent ID check in Aulnay-sous-Bois, Paris, on February 2. The officer allegedly brutalized the man and pushed his baton into his buttocks despite him showing no resistance, according to Theo's own account of the incident.
READ MORE: Protests against police brutality heat up in central Paris, while alleged victim calls for peace
One of the police officers was charged with rape and three others with assault. The case is currently under investigation.
Part of Theo's arrest was caught on camera, although the alleged details could not be clearly seen in the footage. The young man was hospitalized with anal injuries, but not before spending time in police van and then a police station.

The defense added fuel to the fire on Friday when a lawyer was cited as saying that the baton found its way up the young man's rectum "by accident."
Police kept insisting that the anal assault was not deliberate, saying that "there are insufficient elements to show that this was a rape," a source told AFP.
READ MORE: 'Paris police rape case will influence French presidential race'
On Tuesday, Theo was visited by French President Francois Hollande in the hospital.
You can share this story on social media: