Riots & clashes erupt in Paris suburb after man 'raped with baton' by police (VIDEOS)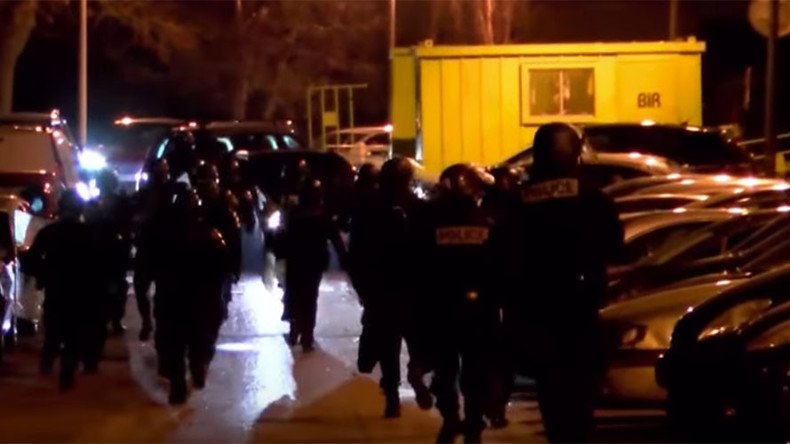 The Parisian suburb of Seine-Saint-Denis was gripped by a night of protests and rioting amid the outrage at the sexual assault a 22-year-old black man allegedly suffered there at the hands of four police officers during a routine ID check.
Scenes of burned-out cars, shattered shop windows and armed riot police combing through Seine-Saint-Denis by night could be seen on videos uploaded by RT's Ruptly news agency.
Protesters also used fireworks and lit fires to vent their outrage at the incident, in which the man, identified only as "Theo," was beaten and then had a police baton allegedly pushed into his anus on Thursday.
Signs reading "Justice pour Theo" and anti-police brutality graffiti were also left in the area.
"Although thousands of police are doing their work properly… too many arrests end in nightmares for some young people. The image of the Republic is being tarnished. We have to urgently find a solution," Stephane Troussel, a Socialist politician in charge of the Seine-Saint-Denis region where Aulnay-sous-Bois is located, said, as cited by French media.
Earlier Monday, a crowd of demonstrators marched from the victim's home to the police station in the commune of Aulnay-sous-Bois, the area of the assault, Le Monde reported. Protesters sang La Marseillaise and chanted slogans against police brutality.
Theo was treated for injuries at a hospital, where he arrived with bleeding, and was reportedly pronounced unfit to work for 60 days. Theo's account of the events, which his lawyer shared with BFMTV, told how police ordered young people to stand against a wall, with which he complied. However, this was followed by an unprovoked assault accompanied by racial slurs.
Theo claims he was repeatedly humiliated following the attack, and made to sit in a police car and then the police station despite acute pain, before an officer at the station realized the severity of his injury.
"He was there at the wrong time and came across some crooks," Theo's brother-in-law Johann told BFMTV.
The disturbing incident was filmed from a distance, and the video was aired by Le Parisien TV, together with an eyewitness account.
The four officers are facing assault charges, with one also reportedly charged with rape. All have initially denied charges against them.
You can share this story on social media: