Iran's response will be 'effective & immediate' if Trump tears up nuclear deal – top official to RT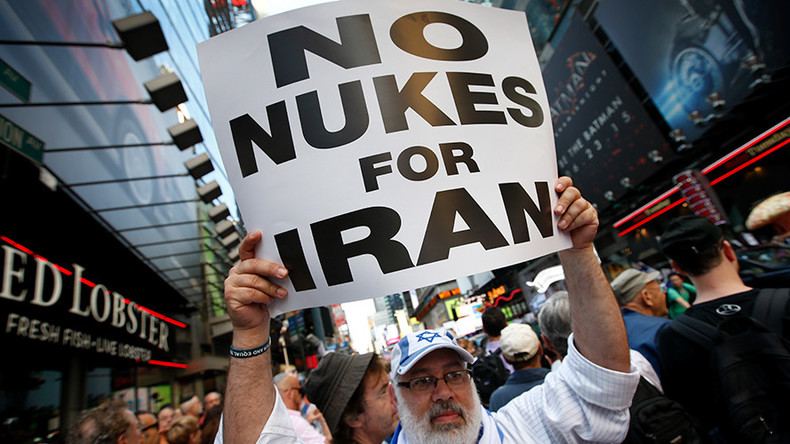 Hostile rhetoric and actions of the new US president will not be left unanswered, a senior Iranian official told RT, adding that Iran seeks stability and peace in the region and only tests new weapons to bolster the country's security and to protect allies and friends.
READ MORE: Iran sanctions: US lists 13 individuals, 12 business entities
Recent Iranian ballistic missile tests were not conducted to intimidate or threaten any country in the region, but solely for the purpose of bolstering the country's defensive capabilities, Iranian Parliamentary Director General for International Affairs and Deputy Speaker of Parliament Hossein Amir-Abdollahian told RT in an exclusive interview.
"The defense policy of the Islamic Republic of Iran is an internal matter. Given the complexity of today's world, we are carefully working to improve the level of our defense. I consider maneuvers and advanced rocket tests an internal affair, with the aim of strengthening the country's defense structures."
"Iran's military programs are designed to protect the territory of the Islamic Republic of Iran," Abdollahian told RT. "Furthermore, they also exist to protect our friends in the region. There are some who are hostile to the West Asia region, the Middle East and the Persian Gulf."
Since the Iranian nuclear deal is an international agreement, Trump's desire to unilaterally cancel it constitutes his disregard for UN Security Council resolutions. If the new US President proceeds with his campaign promises on the matter, the Iranian answer will be "effective and immediate."
Iran however, would not start developing nuclear weapons, and never aimed to do so, Abdollahian stressed.
"If the Americans want to tear up the agreement, we are ready to burn it," he warned.
Trump's decision to ban entry to the US for citizens of several countries of the region, including Iran, was politically motivated and had nothing to do with the pretext of protection from "bad dudes," Abdollahian believes.
READ MORE: 'Iran missile test was legitimate, Trump looking for reasons to escalate tensions'

"I think that if Trump wanted to prohibit the citizens of any country entering the United States, he should have banned the citizens of those countries which took part in the events of September 11," Abdollahian told RT. "But the countries listed by Trump do not include those countries which support terrorism, nor those that created Islamic State (IS, formerly ISIS/ISIL) or al-Qaeda."
Saudi Arabia is a shining example of such country, which according to Abdollahian "has contributed, and very significantly, to the expansion of terrorism across the region in recent years," but somehow did not get on the Trump's ban list.
"Saudi Arabia, and especially its current rulers, have pursued a policy of war and aggression against the long-suffering Yemeni people, carried out a military intervention in Bahrain and supported terrorism in Syria," said Abdollahian. "Yemen did not constitute any threat to Saudi Arabia, but has eventually become such threat."
"The US has tricked Saudi Arabia. Saudis believed that they would be able to occupy Yemen in three weeks and be done with that. But after 22 months of war Saudis not only failed to defeat Ansar Allah [Houthi rebels] and their allies but made Yemen a country without government," he added.
The brutal Yemen war, waged by a Saudi-led coalition apart from destroying the country and inflicting immeasurable sufferings on Yemeni people, could be fatal for Saudi Arabia itself, Abdollahian warned.
"We are concerned that Yemen war could destroy the structure of Saudi army, destabilize Saudi Arabia itself and eventually lead to country's disintegration."
You can share this story on social media: