Philippine Defense Ministry asks Duterte for nod to deploy army in drug war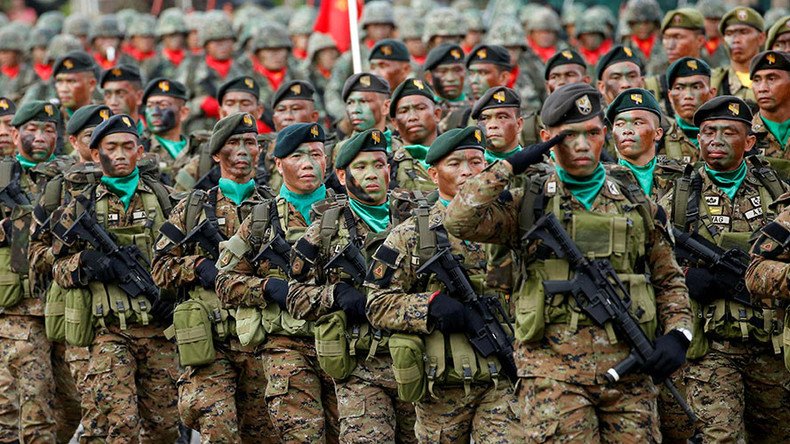 The Philippine Defense Ministry has asked President Rodrigo Duterte for the green light to deploy troops in his war on drugs, as well as the power to hunt down rogue cops.
The Defense Ministry confirmed that it wished to join Duterte's war on drugs and apprehend corrupt police officers. In a statement, it asked for "an official order regarding this presidential directive to serve as a legal basis for our troops to follow." The request comes after the president gave an address on Tuesday asking his generals to take part in his war on drugs and aid in capturing and bringing "scalawag cops" to justice.
On Monday, in the wake of an embarrassing scandalous murder of a South Korean businessman by rogue policemen, Duterte ordered his chief of police to dismantle the anti-drug task force. It will be absorbed by the Philippine Drug Enforcement Agency, which will now take the lead in the drug war.
The president also warned that he would place a dead-or-alive bounty on the heads of cops guilty of corruption if they don't turn themselves within 48 hours.
In the meantime, Amnesty International had harsh words for the president's war on drugs in a report issued on Tuesday, which accuses his police force of targeting innocents, falsifying evidence, and profiting from murder. The report cites witnesses describing how alleged drug dealers or users were gunned down in cold blood, despite offering to surrender.
"They were still gunned down. To cover their tracks, police officers appear often to plant 'evidence' and falsify incident reports," the report read, stressing that Duterte's "relentless pressure on the police to deliver results" feeds the "abusive practices."
According to the latest official figures, over 7,000 lives have been claimed in Duterte's campaign, which was launched when he took power seven months ago.
While the president admits his country has a problem with police corruption, he vows to stamp it out, cautioning other countries and international bodies to butt out of Philippine business and let him do his job.
The United Nations has also called for an investigation to be carried out by a Philippines watchdog.
READ MORE: Philippines President Duterte should be impeached after confessing he killed suspects – senators
In the short time he's been in power, Duterte has managed to alienate the United States and incur the wrath of several institutions, including the Vatican, for waging a merciless war on drug crime. He has found new friendships with other countries, however, such as the US' historic rival, China.
Moreover, it emerged in December that Duterte himself had killed criminal suspects when he was mayor of Davao, eliciting massive criticism and calls for his impeachment from his political opponents.
"I'd go around in Davao with a motorcycle, with a big bike around, and I would just patrol the streets, looking for trouble also... I was really looking for a confrontation so I could kill," Duterte said at a business forum, as he described trying to set an example to his police force.
You can share this story on social media: