'We must respond': European leaders criticize Trump's 'Muslim ban'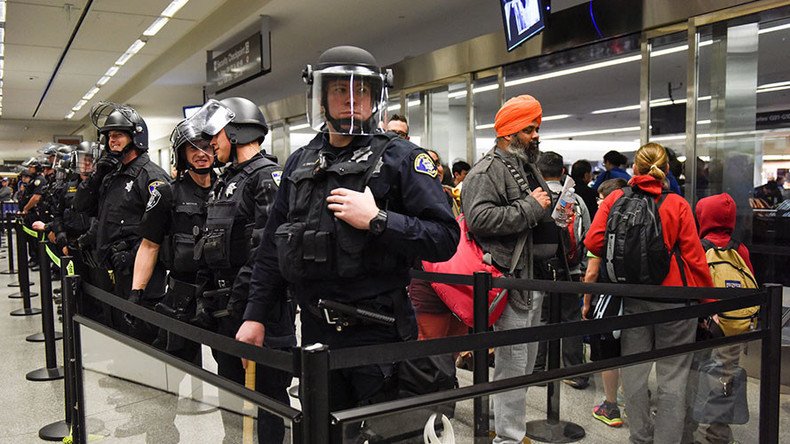 European leaders, officials, and politicians have voiced concern over Donald Trump's executive order that temporarily bans the citizens of seven Muslim-majority nations from entering the US and indefinitely bans all Syrian refugees.
FRANCE
French President Francois Hollande has called on European leaders to give a "firm" response to Donald Trump, whose first steps as the US president have raised concerns among some of America's allies in Europe.
"We must conduct firm dialogue with the new American administration which has shown it has its own approach to the problems we all face," Hollande said at a meeting of southern European Union leaders in Lisbon, Portugal on Saturday.
According to Hollande, the EU cannot remain silent when Trump voices support for the UK's Brexit vote or suspends the arrival of refugees into US.
"When there are statements from the US president about Europe and when he talks about Brexit being a model for other countries, I think we must respond… When he refuses the arrival of refugees, while Europe has done its duty, we have to respond."
Hollande's remarks were echoed by French Foreign Minister Jean-Marc Ayrault, who insisted on Sunday that accepting refugees "is a duty."
"The reception of refugees is a duty of solidarity. Terrorism has no nationality, discrimination is not an answer," Ayrault wrote on Twitter.
L'accueil des refugiés est un devoir de solidarité. Le terrorisme n'a pas de nationalité, la discrimination n'est pas une reponse.

— Jean-Marc Ayrault (@jeanmarcayrault) 29 января 2017 г.

UK
A milder opinion was shared by British Prime Minister Theresa May, who said that, while London did not agree with the executive order, the US' immigration policies were up to its government to decide. According to her spokesperson, US immigration policy "is a matter for the government of the United States, just the same as immigration policy for this country should be set by our government."
"But we do not agree with this kind of approach, and it is not one we will be taking. We are studying this new executive order to see what it means and what the legal effects are, and, in particular, what the consequences are for UK nationals," the spokesperson added.
Foreign Secretary of State Boris Johnson vowed to "protect the rights and freedoms of UK nationals home and abroad," tweeting that it was "divisive and wrong to stigmatise because of nationality."
We will protect the rights and freedoms of UK nationals home and abroad. Divisive and wrong to stigmatise because of nationality

— Boris Johnson (@BorisJohnson) 29 января 2017 г.
London's mayor, Sadiq Khan, the first Muslim to become the mayor of a major Western capital, took to Facebook to slam Trump's 'Muslim ban' as "shameful and cruel."
The leader of the UK's Labour Party, Jeremy Corbyn, went so far as to suggest that Trump should be barred from making his planned visit to the UK as long as his 'Muslim ban' remains in place, the Independent reported.
In the meantime, a petition calling for just that has gathered over 800,000 signatures.
READ MORE: Petition to ban Trump state visit hits 1mn names, smashes debate quota
"Donald Trump should be allowed to enter the UK in his capacity as head of the US Government, but he should not be invited to make an official State Visit because it would cause embarrassment to Her Majesty the Queen," the petition says.
GERMANY
German Chancellor Angela Merkel has slammed the travel ban, adding that "the necessary, decisive battle against terrorism does not justify putting people of a specific background or faith under general suspicion," German Der Spiegel newsmagazine reported, citing her spokesman, Steffen Seibert.
The German government is going to review the consequences of the ban for German citizens with dual nationalities and will "represent their interests, if needed, vis-a-vis our US partners," Seibert said.
"The chancellor regrets the US entry ban against refugees and citizens from several countries," he added.
LUXEMBURG
Luxembourg Foreign Minister Jean Asselborn warned of the possible negative consequences of the travel ban.
"The American president is dividing the Muslim world into good and evil with this," Asselborn told German-language Tagesspiegel newspaper. "The decision is also bad for Europe because it will increase the Muslim world's mistrust and hatred of the West."
NORWAY
Norwegian authorities have also voiced concern over Trump's travel ban. The country's prime minister, Erna Solberg, told VG newspaper that refugees and other people "must be treated equally regardless of religion, nationality and skin color."
"USA violates this by refusing entry [to refugees]… We must be resolute in the fight against terrorism, but I do not think it is right to cut so many people from certain countries," she said.
SWEDEN
Swedish Foreign Minister Margot Wallström also took to Twitter to express her concern over the travel ban.
Banishing people from these seven countries "creates mistrust between people," she wrote.
Deeply concerned about US decision not to allow entry of people from certain countries. Creates mistrust between people.

— Margot Wallström (@margotwallstrom) 28 января 2017 г.
DENMARK
Danish Foreign Minister Anders Samuelsen called Trump's decision "to block people from certain countries" extremely "unwise."
"We must judge and meet each other as individuals," he wrote on his Facebook page.
He later told Dagens Nyheter newspaper that Trump's politics will "have very harsh consequences."
'Let them in': Hundreds protest at JFK airport after Trump's 'Muslim ban' (PHOTOS, VIDEOS)
FINLAND
Finnish Minister for Foreign Trade and Development Kai Mykkänen also responded to the travel ban imposed by Trump, saying that the EU and US should treat refugees equally.
"Finland and the rest of the EU will not and must not discriminate against refugees based on their religion. In any circumstances," Mykkänen wrote on Twitter.
Finland and the rest of the EU will not and must not discriminate against refugees based on their religion. In any circumstances.

— Kai Mykkänen (@KaiMykkanen) 29 января 2017 г.
However, not all of Europe's leaders have joined in the chorus of disapproval. On Saturday, a spokesperson for Czech President Milos Zeman praised the ban, saying the new US president was simply concerned about the safety of American citizens.
You can share this story on social media: