Trump: 'Very early' to speak of lifting Russian sanctions, amid speculation it could happen soon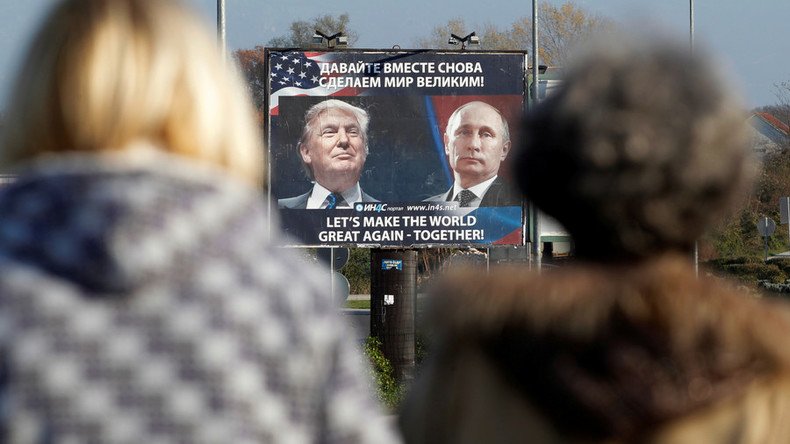 It's "very early" to discuss the lifting of the anti-Russian sanctions, US President Trump said ahead of his upcoming telephone talk with Russia's President Putin. Earlier, a senior White House aide said that the subject may be on the agenda.
"As far as the sanctions [are concerned, it is] very early to be talking about that," Trump told a press-conference after his meeting with British Prime Minister Theresa May.
Earlier, Trump's aide Kellyanne Conway said on Fox News's "Fox & Friends" program that the sanctions imposed by the US after Crimea joined Russia in 2014 are likely to be discussed by the US and Russian presidents.
"All of that is under consideration – and certainly, in addition to improving relations with different foreign leaders and their nations around the globe. And if another nation that has considerable resources wishes to join together with the United States of America to try to defeat and eradicate radical Islamic terrorism, then we are listening," she said.
"You know what the president has said – it's America first, including his foreign policy and his national security moves. Yes, he will call out other nations when he believes it's not in the American interests and in the interest of humanity. That's what these conversations are for, these private conversations with world leaders," Conway said.
Speculation over sanctions possibly being lifted began circulating a couple of days ago.
On Thursday, a researcher at the Atlantic Council analytical center, Fabrice Pothier, wrote on Twitter with reference to Washington sources that Trump's administration "has an executive order ready to lift Russia sanctions."
DC sources say that Trump admin has an executive order ready to lift Russia sanctions. @POTUS to talk to Merkel and then Putin on Saturday

— Fabrice Pothier (@FabricePothier) January 26, 2017
After that, Politico's Susan Glasser also shared the news that the executive order regarding the sanctions is ready and "floating around." Glasser, however, wrote that the sanctions are going to be eased, not lifted.
Hearing Trump world has text of order floating around to ease Russia sanctions. Will they put out before Tillerson confirmed SecState?

— Susan Glasser (@sbg1) January 26, 2017
Commenting on the speculation, Senator John McCain has expressed the hope that President Trump won't take that "reckless course," Reuters reported.
Meanwhile, Vladimir Putin's spokesman Dmitry Peskov said that Kremlin is not aware of what is going to be discussed during the talk.
"The information is anonymous and I don't know if it is true to life," Peskov said.
READ MORE: Trump: US may lift Russian sanctions in exchange for nuclear reduction deal – Times, Bild
Trump has already signaled that he would be open to lifting sanctions on Russia in case Moscow agrees to cooperate in the fight against terrorism or helps the US in some other way.
"If you get along and if Russia is really helping us, why would anybody have sanctions if somebody's doing some really great things?" Trump said in early January.
The telephone talk between the two leaders, which will be the first call with a foreign leader since Trump's inauguration, is to take place on Saturday, January 28.
You can share this story on social media: