Anti-US base activists push for Okinawa protester's release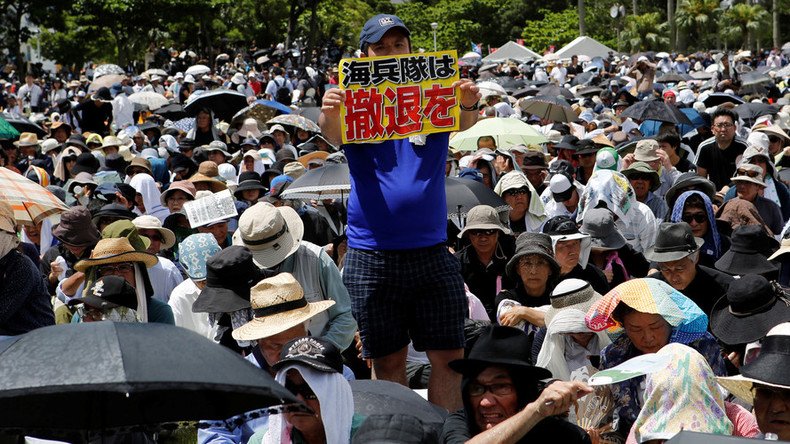 Activists opposing the US military presence on the Japanese island of Okinawa are protesting the ongoing detention of one anti-US base activist over a series of minor offenses.
Hiroji Yamashiro, 64, had been leading protests against the construction of a new US marine corps installation, before he was arrested on October 17 last year. The island already boasts 32 such facilities.
Yamashiro and his supporters have claimed he is being detained for politically-motivated reasons and that the Japanese government is trying to silence him.
READ MORE: US military preparing for biggest Okinawa land return in over 40 years
He is being held on suspicion of cutting a wire fence around a Marine Corps helipad construction site, interfering with a public officer's duties, causing bodily harm, and of obstructing the construction of a Marine Corps air station.
US forces have been stationed on Okinawa since the end of WW2, and the base has long been a contentious issue in Japan. This latest series of protests are against the construction of new bases in Henoko and Takae, which locals say will damage the ecosystem.
Responding to a series of questions put to him by The Washington Post, Yamashiro wrote from his prison cell: "I can't help but think this smells like a political judgment, not a judicial one, This is an unjust and illegal detention, and I don't think it should be allowed to happen. It's probably related to the current situation of the base issue in Okinawa."
Under Japanese law, suspects can be held for a period of 23 days before they must be charged or released. Yamashiro has been held for three times that period and has also reportedly been prevented from seeing his family throughout his detention.
READ MORE: Okinawa governor rescinds action against US base relocation – report
Yamashiro's supporters have submitted a petition calling for his release to Naha district court. It has reportedly been signed by 40,000 people and there have been a number of protests outside the building.
A number of public figures including documentary writer Satoshi Kamata, author Keiko Ochiai, and commentator Makoto Sataka have also called for his release.
The activist remains defiant, writing to The Washington Post: "I will not get discouraged, I will survive through this and work hard to speak for angry Okinawan people."
You can share this story on social media: