Okinawa governor rescinds action against US base relocation – report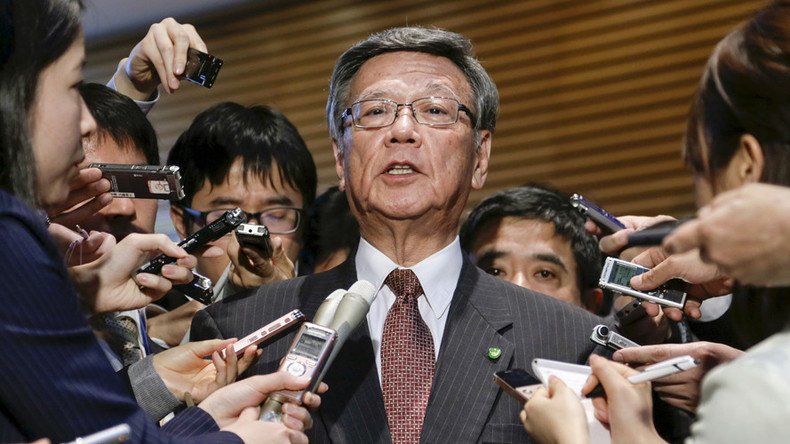 The governor of Okinawa has reportedly rescinded an action against the relocation of a US airbase, despite being an extremely vocal critic against the presence of American troops on the Japanese island, according to sources cited by Kyodo News.
Governor Takeshi Onaga's apparent decision follows his defeat last week in a lawsuit filed by the central government over a plan to move the US Marine Corps Futenma Air Station from Ginowan to the less-populated area of Henoko, in Nago.
Japan's Supreme Court found that it was illegal for Onaga to revoke the approval granted by his predecessor, Hirokazu Nakaima, for land reclamation required to build replacement runways at the new base.
Onaga revoked the approval in October 2015, which led to a legal dispute between Tokyo and the local Okinawa government. Relocation work in Henoko was suspended in March.
However, despite sources stating that Onaga has rescinded an action against the base relocation, the governor's fight against the move may not be over, as he has previously vowed to thwart it via other means.
Meanwhile, Chief Cabinet Secretary Yoshihide Suga said at a press conference that Tokyo is "making necessary preparations" to resume the reclamation-related work following the Supreme Court's decision. It may resume on Tuesday or Wednesday, according to sources cited by Kyodo News.
Suga also said he will meet Onaga in Tokyo on Tuesday for talks on a draft national budget for fiscal 2017, which was approved by the cabinet last week and includes funds to support Okinawa's development.
Onaga has been an extremely vocal opponent to the large presence of US troops based on Okinawa. Just last week, the governor skipped a ceremony to mark the historic return of thousands of hectares of land to Japan by the US, opting instead to lead a mass protest against American forces and helipads on the island.
The large presence of American troops on Okinawa has long been the subject of complaints and concerns related to noise, crimes and accidents linked to the military bases.
Despite comprising less than 1 percent of Japan's total land area, Okinawa hosts some 74 percent of the country's total US military presence.
You can share this story on social media: