Marine Le Pen is now leading among French voters – poll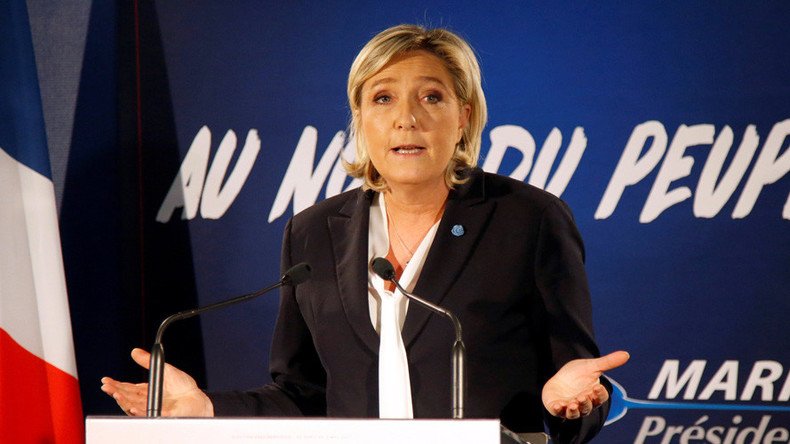 French presidential candidate and leader of the right-wing National Front party Marine Le Pen is gaining more support, leading with 25 to 26 percent of the vote, according to the latest Ipsos Sopra Steria survey, carried out for Cevipof and Le Monde.
Francois Fillion comes in second, with 23 to 25 percent of the vote, and Emmanuel Macron – also gaining support – is third with 19 to 21 percent.
The fluctuation in the percentages depends on the eventual Socialist Party candidate, as yet unnamed. The party's candidate could be former Prime Minister Manuel Valls, former Minister of Industrial Renewal Arnaud Montebourg, or former Minister of Education Benoit Hamon.
READ MORE: France's Le Pen wants repatriation of car plants a-la Trump
Almost 16,000 people over 18 years old were interviewed for the Ipsos Sopra Steria poll, making it a major survey in the country, about 16 times the size of usual French political polls. The survey was conducted from January 10 to 15, 2017.
In mid-December, Fillon topped the list with 28 percent, while Le Pen had around 25 percent.
The poll shows a significant drop for center-right Fillon, and a significant consolidation for Le Pen as well as Macron, with the latter rising dramatically over the past few weeks.
READ MORE: Bye-bye, euro: France's Macron says European currency may vanish in 10 years
Under the French electoral system, the two leading candidates will meet in a May 7 run-off.
Among Le Pen's policies is support for 'Frexit,' or French exit from the EU. She has also stated that France should leave NATO, as the bloc exists "only to serve Washington's objectives."
You can share this story on social media: