12yo Indian girl 'gang raped by school principal & 3 teachers' in critical condition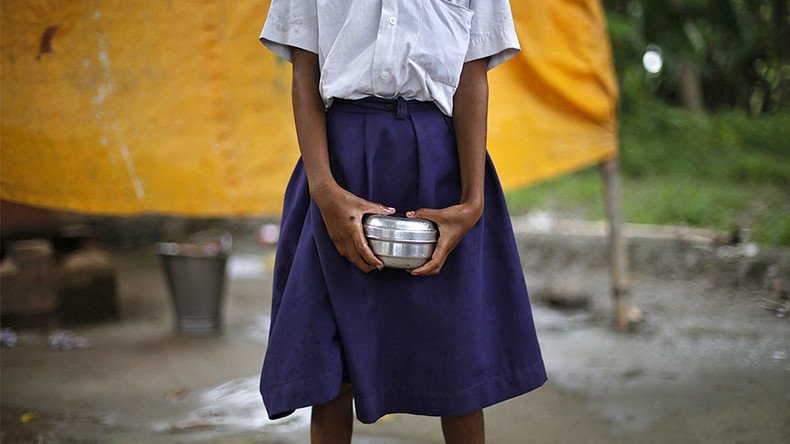 A mentally challenged 12-year-old girl is reported to be in a critical condition after allegedly being gang raped by a school principal and three teachers in Bihar's Jehanabad district in eastern India.
"She is my only child," said the girl's mother, who is a physical education teacher at Kako secondary school, where the alleged attack happened. She added that her top priority was to save her daughter and then fight for justice.
The girl was found by her mother in a disheveled condition on the rooftop of the school following a thorough search. The four suspects are on the run.
Four teachers allegedly raped her on the roof of the building, the Hindustan Times reports.
The girl's mother was giving classes at the time of the incident. She said her daughter "is not mentally sound. As there is no one to take care of her at home, she accompanied me to school," the Indian Express reported.
"When I did not find her for some time, I started looking for her and reached the rooftop. She was found in a bad condition there," her mother said.
She took her daughter to the Kako police station, where police recorded her statement and referred the girl to Jehanabad Sadar hospital.
"As my daughter's condition worsened and the bleeding did not stop, I took her to Patna by train and admitted her at the Patna Medical College and Hospital. She was referred to the maternity ward after the emergency ward did not accept her case," she said.
Kusum Bharati, who is in charge of Jehanabad women's police station, said a rape case has been launched against Aju Ahmad, the principal of Kako secondary school, and three teachers, Atul Rehman, Abdul Bari, and Mohammed Shaukat, on a complaint by the victim's mother.
"Prima facie, the incident appears true and raids are on to arrest the culprits," she said, according to the Hindustan Times.
The girl's mother plans to lodge a complaint with the state education department.
On Monday, a tailor confessed to kidnapping and raping an estimated 500 children over the last decade, Delhi police said, uncovering what could be one of the biggest serial pedophile case in India. Police said Sunil Rastogi, a 38-year-old married man with five children, could not remember the exact number of girls he had sexually assaulted since 2004, but said it could be "hundreds."
Last month, a 10-year-old schoolgirl suffered burns to 60 percent of her body when two unidentified men in the village of Jharkhand in eastern India allegedly poured kerosene on her, set her aflame, and threw her in a dry well for resisting rape, the Hindustan Times reported.
Sexual violence in India caused massive outrage in 2012, when a 23-year-old Delhi student was gang raped on a moving bus and later died in the hospital. That attack led to mass street protests over the high level of violence against women, prompting the Indian government to toughen jail sentences for rapists. Perpetrators found guilty now receive a minimum 20 years in prison, instead of the previous 10. The maximum sentence is life behind bars.
Despite public demonstrations and changes in legislation, rape and violence against girls and women is a frequent occurrence in India. At least 34,651 cases of rape were reported in 2015, statistics released by the National Crime Records Bureau (NCRB) showed. Victims knew their offenders in 33,098 of those cases, but many go unreported.
You can share this story on social media: