Lack of toilets contributing to rise of rape in India – study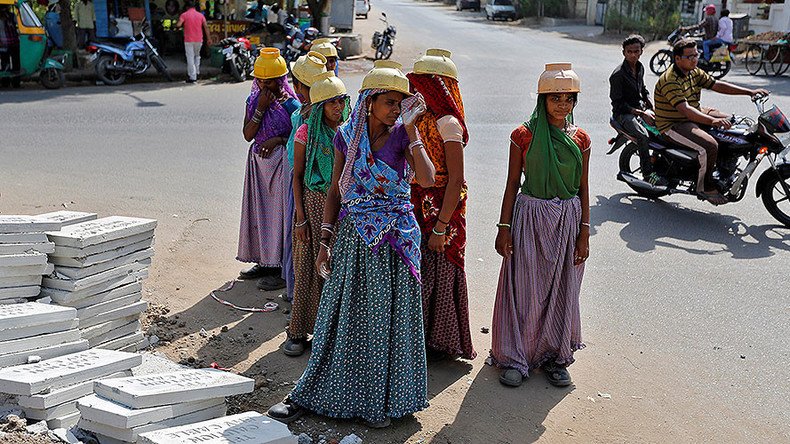 Women in India who don't have adequate access to sanitation facilities and are forced to openly defecate are more likely to experience sexual violence, according to a new study.
Approva Jadhav, a researcher from the University of Michigan, said that "open defecation places women at uniquely higher risk of type of sexual violence: non-partner" in the co-authored report.
In their findings, researchers said it was twice as likely for women without access to "household toilets" to face sexual violence than women who do have such access, suggesting that improvement of infrastructure and access to toilets would provide a safer environment for women.
"Women who use open defecation sites such as open fields or the side of a railway track are twice as likely to get raped when compared with women using a home toilet," the study stated.
Never really know open defecation is so common in sub saharan Africa and India. Women are also at risk of rape only to go to toilet! Crazy!

— Izzuddin Nor (@IzzuddinNor) November 4, 2014
"Our findings provide further rationale for NGO's and the Indian government to expand sanitation programs, and raise new questions about the potentially protective role of sanitation facilities in other contexts beyond India," the research found.
Almost half of India's population do not have access to basic sanitation and have to defecate in public and women appear to be affected the most.
"This is an urgent need that cannot be ignored anymore," Ms Jadhav, lead author of the report, told NDTV. "We need more than anecdotes to bring a policy change."
READ MORE: It's the toilet police! India to track WC usage with tablets in real time
By analyzing data from the Indian National Family Health Survey along with an overall representative sample of 75,000 women who answered questions on accessibility to toilets in their homes and experiences of various types of violence, the researchers found that previous sanitation studies did not examine the synonymous link between the two.
The issue of India's sanitation crisis being linked to sexual violence came to light in 2014 when two teenage girls were raped and hanged in Uttar Pradesh while they were making their way to fields to defecate.
In the slums of Delhi, where communities often have to share public toilets, girls under the age of 10 have been found to be at risk of "being raped while on their way to use a public toilet," according to a BBC report, which also states that around 300 million women and girls in the country defecate in the open.
READ MORE: 10yo Indian girl stripped, set ablaze, thrown in abandoned well for resisting rape attempt
You can share this story on social media: