Fighter jet crashes at airshow for kids in Thailand (VIDEOS)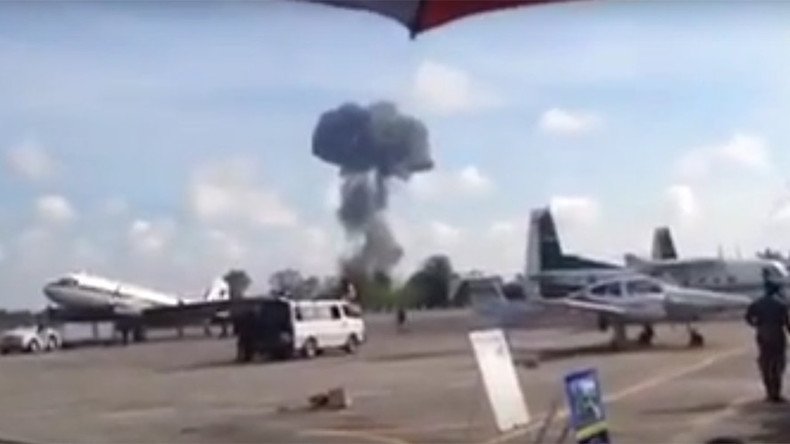 A Saab Griben fighter jet taking part in the Children's Day airshow at Thailand's southern Hat Yai International Airport has been filmed crashing to the ground, with smoke and flames erupting from the spot. The pilot was reportedly killed in the crash.
READ MORE: US fighter jet crashes in southwestern Japan
A colorful show for children in Hat Yai turned into a nightmare on Saturday, as one of the pilots flying over the airfield lost control of his aircraft and crashed into the ground.
A video filmed from amid the crowd of onlookers celebrating the holiday with balloons and umbrellas shows what is reported to be a Swedish-made Saab JAS 39 Gripen jet buzzing the airport. The jet appears to be going into a stunt maneuver, before quickly turning over and nearly nose-diving into the ground in the distance.
AOT ปิดสนามบินหาดใหญ่ชั่วคราวเนื่องจากเครื่องบิน Gripen 39 ที่แสดงแอร์โชว์วันเด็กเกิดอุบัติเหตุตก1ลำ คาดวเปิดสนามบินหาดใหญ่ได้ก่อนเที่ยง pic.twitter.com/JbtoBfxgpf

— Nalinee Siriked (@Nalinee_PLE) January 14, 2017
The pilot, who was not seen ejecting, is said to be dead. While the plane fell a fair distance away from the crowd, it was not immediately known if it caused any damage or casualties on the airfield.
The show took place on Children's Day, which this year was celebrated in Thailand on January 14.
READ MORE: Underwater footage shows divers recovering wreckage of crashed Tu-154 from seabed (VIDEO)
You can share this story on social media: