Chechens burn photos of ISIS chief Baghdadi in capital Grozny to denounce terrorist group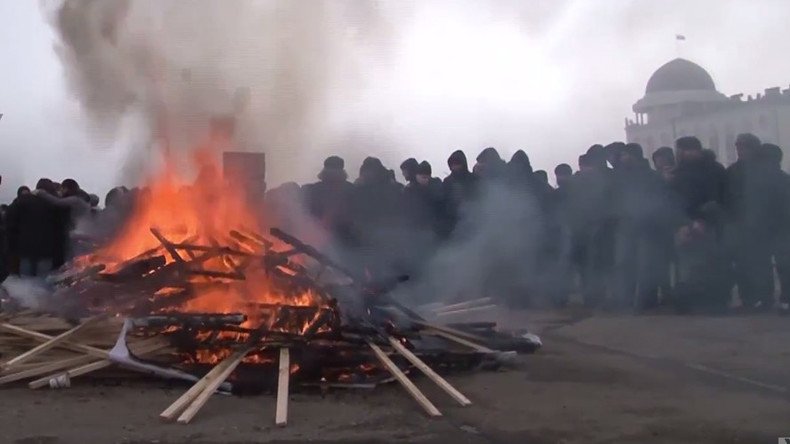 Relatives of those recruited by Islamic State (IS, formerly ISIS/ISIL) burned portraits of the group's leader Abu Bakr al-Baghdadi at a rally in the Chechen capital of Grozny on Sunday.
Several thousand people joined the protest against the extremist group near the Heart of Chechnya Mosque, the mayor's administration said.
The rally was organized by parents and relatives of those who were recruited by ISIS.
The participants denounced the terrorist group for luring young people to fight for them in Syria and Iraq, urging Chechens not to fall for jihadist propaganda.
Former militant Said Mazhaev, who fought for Islamic State for seven months with his brother, who was killed, told the crowd that he was "deeply mistaken" by joining the group, and now has to make amends.
"I could go to another place. I decided to come back home to pay for my mistake," Mazhaev, who spent eight months in jail, said.
READ MORE: 7 militants that attacked police in Chechen capital killed in special op – Kadyrov
"I work with public organizations to explain to young people that there is only lies and deceit" with Islamic State, which is only trying to "divide us so we will kill each other," he explained.
The rally in the Chechen capital concluded with the burning of IS symbols and portraits of the group's leader, Abu Bakr al-Baghdadi.
The Russian Security Service (FSB) put the number of Russian fighters among Islamic State's ranks in Syria and Iraq at around 3,000 people.
READ MORE: Police officer killed in car-blast at check-point in southern Russia (VIDEO)
The terrorist group mainly recruits fighters among young people in predominantly Muslim regions of Russia's northern Caucasus, including Chechnya and Dagestan.
In mid-December, Islamic State claimed responsibility for an armed attack on police in Grozny.
At least one officer was killed, while seven attackers were eliminated during a special operation by security forces.
You can share this story on social media: