Pakistan tests 1st seaborne nuclear-capable missile in Indian Ocean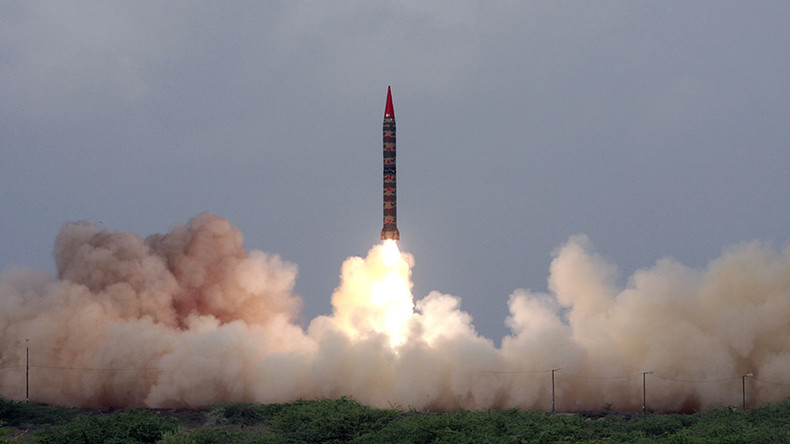 Pakistan has successfully test-fired its first submarine-based nuclear-capable missile, the military's press department confirmed on Monday.
Launched somewhere in the Indian Ocean, the Babur-3 cruise missile "was fired from an underwater, mobile platform" and "hit its target with precise accuracy," according to a press release from the Inter-Services Public Relations (ISPR), the media branch of the Pakistani armed forces.
"[The] Babur-3 SLCM in land-attack mode is capable of delivering various types of payloads and will provide Pakistan with a Credible Second Strike Capability, augmenting deterrence," read the statement on the ISPR's website. In military terms, a second-strike capability means the ability to respond to a nuclear attack in kind.
"Pakistan eyes this hallmark development as a step toward reinforcing policy of credible minimum deterrence."
Pakistani Prime Minister Nawaz Sharif was among the officials who congratulated the military on the successful test-launch. In a statement released by the Press Information Department, the PM said that the "Babur-3 is a manifestation of Pakistan's technological progress and self-reliance."
The Babur-3 missile is a sea-based version of the Babur-2, which was successfully tested in December 2016. With a range of 450 km (280 miles), the Babur-3 features underwater controlled propulsion and advanced guidance and navigation systems, as well as terrain hugging and sea skimming flight capabilities and stealth technology to evade hostile radars and air defenses.
According to the ISPR press release, the missile tests are a response to "nuclear strategies and postures being adopted in Pakistan's neighborhood," which is likely a reference to India's nuclear arsenal. On December 26, India tested its Agni-V intercontinental ballistic missile, which has a payload capacity of over one ton and can carry a nuclear warhead at a distance of over 5,000 kilometers. The launch was praised by Prime Minister Narendra Modi.
India and Pakistan, both nuclear powers, are long-term rivals who have been at odds over a number of issues, including the disputed region of Kashmir. Since independence from British rule in 1947 the two countries have fought four wars, two of which have been over Kashmir. Skirmishes periodically erupt over the border, mostly recently in September 2016 when Indian armed forces conducted "surgical strikes" against alleged terrorists operating from Pakistani territory.
You can share this story on social media: