People from over 10 countries among Istanbul nightclub attack victims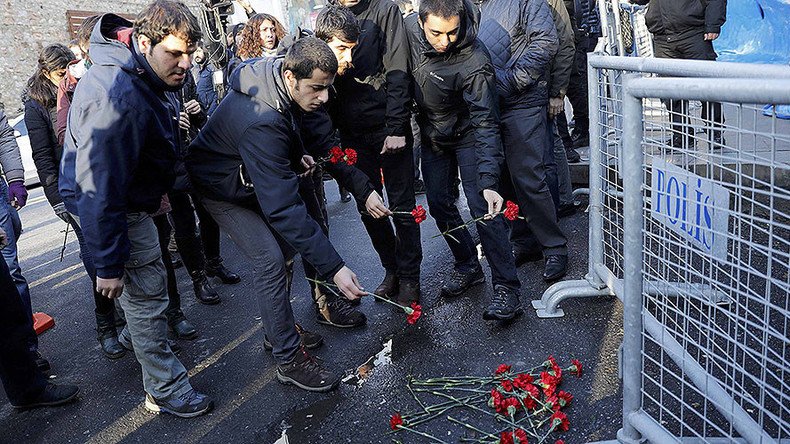 Fifteen or 16 non-Turkish citizens were killed in a gun attack on an Istanbul night club on Sunday, Turkish officials announced. The attack during the New Year celebrations claimed the lives of at least 39 people and injured nearly 70.
Nationals of several Middle Eastern countries were killed at the Reina night club when an unidentified gunman opened fire at partygoers just over an hour into 2017.
READ MORE: 'Soaked in blood': Istanbul club attack survivors share terrifying accounts of shooting & stampede
According to Turkey's interior minister, Suleyman Soylu, "15 or 16" of those killed were foreigners. Just over 20 bodies have been identified so far, the minister said, adding that 69 people have been hospitalized, of whom at least four are in critical condition.
Saudi Arabian, Moroccan, Libyan and Lebanese citizens were among those killed in the attack, Turkey's Minister of Family and Social Policies, Fatma Betul Sayan Kaya, announced on Sunday.
"Citizens of other nations" were also among the victims, the official told the media, as cited by Turkey's Anadolu news agency.
At least five Saudi citizens were killed, the Saudi consul general in Istanbul confirmed, as reported by Reuters, citing al-Riyadh newspaper. About 10 Saudi citizens were reportedly injured. However, according to sources of Al-Arabiya TV channel, at least seven Saudi citizens died in the attack.
Jordan has confirmed the death of at least three of its citizens, Petra news agency reported, citing its foreign ministry in Amman, adding that four other Jordanians were wounded, some of whom are in critical condition.
Two Tunisian citizens were among those killed, according to the country's foreign ministry.
An American citizen has been injured as result of the attack, State Department spokesman Michael Tran confirmed, without giving any details on the identity of the person or their condition, CNN reports.
On Sunday, the Russian Consulate General in Istanbul confirmed the death of a Russian woman in the attack. A consulate official told RIA Novosti that the woman was initially thought to be an Azeri citizen, but documents confirmed her Russian citizenship.
"There were no other Russian citizens among those killed or wounded in the terrorist attack," the consulate official said, adding that the identification procedure for the deceased woman has been scheduled for Tuesday.
France has confirmed that one of its citizens, a woman with dual French-Tunisian citizenship, was killed in the attack at the night club. "Her husband, who was a Tunisian citizen, also died," France's Foreign Minister Jean-Marc Ayrault said. Three French citizens were wounded.
The Belgian Foreign Ministry reported on Twitter that it feared one of the deceased may be from Belgium.
Two Lebanese nationals have been confirmed dead. Lebanese authorities said five of the country's citizens were injured in the attack, including the daughter of an MP.
Israel confirmed that one of its citizens, a 19-year-old girl, was among the dead.
Three Moroccans were injured, the Moroccan foreign ministry said.
Kuwait has lost one of its citizens in the attack, Deputy Foreign Minister Khaled Suleiman al-Jarallah told the Kuwait News Agency on Sunday. Four Kuwaiti citizens are being treated for injuries suffered in the attack, while another one has been released from the hospital.
Indian External Affairs Minister Sushma Swaraj confirmed that two Indian nationals, including the son of a former MP, have died in the shooting.
"I have bad news from Turkey. We have lost 2 Indian nationals in the Istanbul attack," she wrote in a Twitter post, adding that the Indian ambassador in Turkey is heading to Istanbul to assist the families of the deceased Indians who are to fly there from India.

Up to 600 people are believed to have been inside the club at the time of the attack. Located in the Ortakoy neighborhood on the shores of Istanbul's Bosphorus waterway, the venue is a popular spot with many nightclubs, art galleries, and restaurants that attract foreigners.
Turkey's Anadolu state news agency has reported that at least 27 foreigners were among the victims of the nightclub attack, citing anonymous sources in the Justice Ministry.
"I have been living in Ortakoy for the past [few] months and this particular area has a [high] expat population. So, one of the main reasons behind this attack could be because [its organizers] wanted to scare the expat community. This is also a very famous tourist area, and the club that was attacked is very famous not only among expats, but also among local celebrities," a woman in Istanbul told RT.
Those behind the attack "are targeting a certain kind of people, a certain way of life," another man said, while a third local man told RT he thought the attackers "wanted to scare the international people who come here for fun."
You can share this story on social media: