Chronicle of violence: Turkey's year of devastating terrorist attacks (VIDEOS)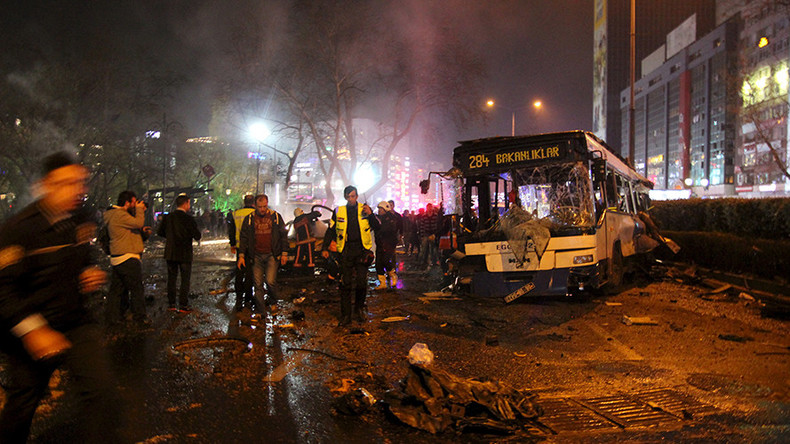 The New Year's shooting spree that left at least 39 people dead at a crowded Istanbul night club is just the latest in a wave of sporadic terrorist attacks, particularly suicide blasts, which have rocked Turkey throughout the past 12 months.
As many as 39 people, including 15 or 16 foreigners, were killed and dozens of others were injured when at least one gunman opened fire in one of Istanbul's most popular night clubs, Reina, just one hour into the new year. "A terrorist with a long-range weapon... brutally and savagely carried out this incident by firing bullets at innocent people who were there solely to celebrate the New Year and have fun," Istanbul's governor, Vasip Şahin, told the media at the scene of the attack.
READ MORE: Erdogan brands Istanbul attack 'dirty game,' vows to crush terrorism
December 19: Assassination of Russia's ambassador
Russia's ambassador to Turkey, Andrey Karlov, was shot dead by a gunman who opened fire at the grand vernissage of a photo exhibition in Ankara. Russian President Vladimir Putin said the attack was "clearly a provocation aimed at undermining the improvement and normalization of Russian-Turkish relations, as well as undermining the peace process in Syria promoted by Russia, Turkey, Iran and other countries interested in settling the conflict in Syria."
READ MORE: Assassination of Russian ambassador to Turkey
December 17: Attack on soldiers' bus
A bus carrying off-duty soldiers was hit by an explosion outside a university in the Turkish city of Kayseri, leaving 13 people dead and 55 wounded. President Tayyip Erdogan blamed the attack on Kurdish militants.
READ MORE: Bus blast in Turkey kills 13, wounds 55 – military
December 10: Istanbul stadium bombing
Two separate blasts targeting Turkish security forces in the vicinity of Besiktas stadium in Istanbul killed 38 people, most of whom were police officers. Over 150 other people were injured. The blast outside the stadium, which took place shortly after a soccer match between two of Turkey's top teams, was caused by a remotely detonated car bomb, Turkey's interior minister, Suleyman Soylu, said. The first explosion was followed by a suicide attack at Macka Park less than a minute later.
READ MORE: Twin Istanbul blasts kill 38, injure 155 near Besiktas stadium (VIDEOS, PHOTOS)
June 28: Ataturk airport blasts
Over 40 people died and almost 240 were injured when three blasts rocked the international arrivals terminal of Istanbul's Ataturk airport, one of the world's busiest. The majority of the victims were Turkish nationals, but there were also foreigners among the dead, officials said. The Turkish government linked the attacks to Islamic State (ISIS/ISIL).
READ MORE: 'I saw a terrorist shooting people': Turkish airport eyewitnesses describe harrowing scenes to RT
March 19: Shopping mall attack in Istanbul
Five people were killed in an attack on a popular shopping district in Istanbul, including the attacker. At least 36 other people were injured. Two Israelis, two Americans, and one Iranian were among the fatal casualties. The blast occurred a few hundred meters from an area where police buses are often stationed. Turkish Prime Minister Ahmet Davutoglu called the blast "inhumane," saying it would not stop Ankara from fighting "centers of terrorism."
READ MORE: Suicide bombing in central Istanbul main shopping street kills 5, injures 36
March 13: Ankara bombing
A blast caused by a suicide car bombing hit downtown Ankara, killing at least 37 people and injuring 125. The blast occurred near Guven Park close to a courthouse and buildings housing the country's justice and interior ministries.
The Kurdistan Freedom Hawks (TAK), a Kurdish militant group, claimed responsibility, saying the attack was a response to security operations being conducted in Turkey's predominantly Kurdish southeast. "This action was carried out to avenge the 300 Kurds killed in Cizre as well as our civilians who were wounded," the group said in a statement.
READ MORE: Car bombing rocks Turkish capital Ankara, 34 dead, 125 injured
March 3: Attack on police station in Istanbul
A pair of female terrorists threw grenades and opened fire on a police bus as it was about to enter a police compound in Istanbul. They were later killed by law enforcement officers after being cornered in an adjacent apartment building. The leftist DHKP-C militant group, which has repeatedly targeted police stations, claimed responsibility for that attack in a statement to state-run Anadolu news agency.
READ MORE: Grenades thrown, gunfight, 2 terrorists attack bus at Istanbul police station
February 17: Car bomb in Ankara
Twenty-eight people were killed and 61 injured in a blast in Ankara, when a car bomb targeting military personnel went off close to the parliament building. The Kurdistan Freedom Hawks (TAK), a splinter group of the outlawed Kurdistan Workers' Party (PKK), later claimed responsibility, saying they had carried out the bombing in retaliation for Turkey's military operation in the southeast of the country. TAK vowed to continue its attacks.
READ MORE: At least 28 dead, 61 injured as blast hits military bus in Turkish capital Ankara
You can share this story on social media: