Twin Istanbul blasts kill 38, injure 155 near Besiktas stadium (VIDEOS, PHOTOS)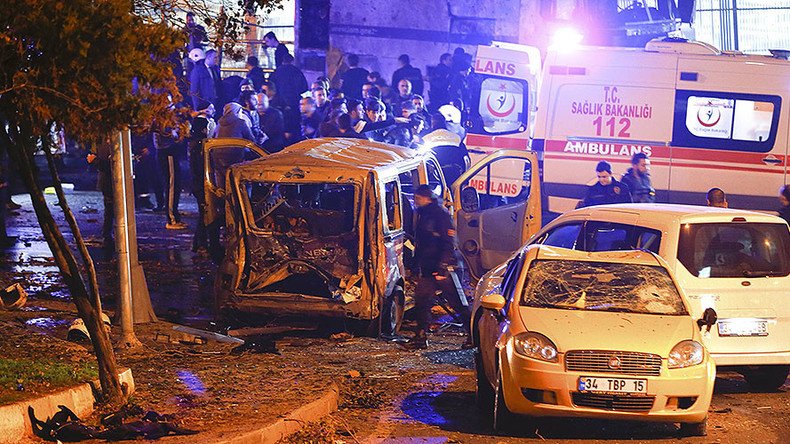 At least 38 people, most of them police officers, were killed, and over 150 people injured in two separate blasts that targeted Turkish security forces in the vicinity of Besiktas stadium in Istanbul.
Thirty police officers, seven civilians, and an unidentified person were killed in the bombings, according to Turkish Interior Minister Suleyman Soylu.
"According to the latest information we have received, 38 of our nation's children have reached martyrdom after last night's cruel attack," Soylu told a news conference, as cited by Reuters. He added that Kurdish militants were believed to be responsible for the atrocity.
At least 155 more people suffered injuries of varying severity. They are now being treated in the hospital and 14 of them are said to be in intensive care, Reuters reported citing Turkish Minister of Health Recep Akdag.
READ MORE: Moment of terrifying Istanbul explosion caught on camera (VIDEOS)
The blast outside the stadium took place shortly after a soccer match between two of Turkey's top teams, and was caused by a car bomb detonated remotely at around 10:30pm local time, Soylu said. The first explosion was followed by a suicide attack at Macka Park about 45 seconds later.
Police have so far taken 10 suspects into custody over potential links to the attack, the minister added.
While a total of 166 people were wounded, some have already been discharged, with 17 injured undergoing surgery, Health Minister Recep Akdag said. At least six victims are in intensive care.
The blast targeted a riot police bus, the minister said.
"It is thought that it was a car bomb at a point where our special police forces were located, right after the match at the exit where Bursaspor fans left, after the fans departed," the Guardian quoted Soylu as saying.
Turkish President Recep Tayyip Erdogan said that terrorists targeted both police officers and civilians in a way that was apparently designed to maximize casualties.
He said that, "a terrorist attack has been carried out against our security forces and our citizens. It has been understood that the explosions after the Besiktas-Bursaspor football game aimed to maximize casualties. As a result of these attacks, unfortunately, we have martyrs and wounded," he said.
No matter which terrorist organization was behind the attacks in Istanbul, be it the PKK, ISIS, or Gulen's FETO movement, Erdogan promised to eradicate extremists.
Turkish Transport Minister Ahmet Arslan called the explosion outside the stadium a "terrorist" act. He expressed his condolences to the victims' families on Twitter.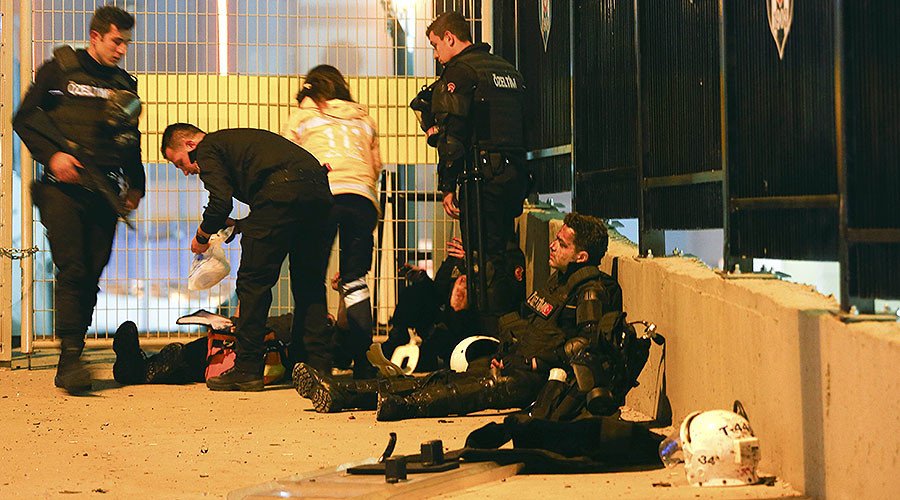 Turkish Prime Minister Yıldırım issued a statement saying that terrorists will not be able to defeat the "integrity of the state" and will not turn Turkey away from the path of democracy. The PM also confirmed that an explosives-laden vehicle targeted Turkish security forces outside the stadium.
A game between two of Turkey's top teams, Besiktas and Bursaspor, was held at the arena on Saturday evening.
"Two explosions happened Saturday after a football match," Alaattin Kilic, a reporter from Istanbul, told RT. "The attacks targeted a police bus as it was leaving the stadium after [a] ... security job."
Police, according to the reporter, immediately intervened with water cannon to extinguish the fires caused by the explosion. Rescue units are currently working at the scene, Kilic stressed.
None of Bursaspor's fans were injured in the incident, the team reported on Twitter, saying it checked the information with fan groups.
Meanwhile, two witnesses told Reuters they heard two blasts outside the Vodafone Arena.
"It was like hell. The flames went all the way up to the sky. I was drinking tea at the cafe next to the mosque," said Omer Yilmiz, who works as a cleaner at the nearby Dolmabahce mosque.
"People ducked under the tables, women began crying. Football fans drinking tea at the cafe sought shelter, it was horrible," he told Reuters.
Pictures of grey clouds rising near Besiktas stadium quickly emerged online. Those were followed by images and videos of the explosion's aftermath.
Turkey witnessed several terrorist attacks in its two biggest cities, Ankara and Istanbul, this year, as the country continued its bloody campaign against the Kurdistan Workers' Party (PKK) in the southeast of the country. Ankara has also been stepping up its military operations inside Syria and Iraq over the last year against Islamic State militants.
The government alleges that PKK has twice struck Ankara this year, while suspected ISIS suicide bombers have hit Istanbul on three occasions.
You can share this story on social media: