Attacks by refugees 'bitter & repulsive,' Islamic terrorism 'most serious test' for Germany – Merkel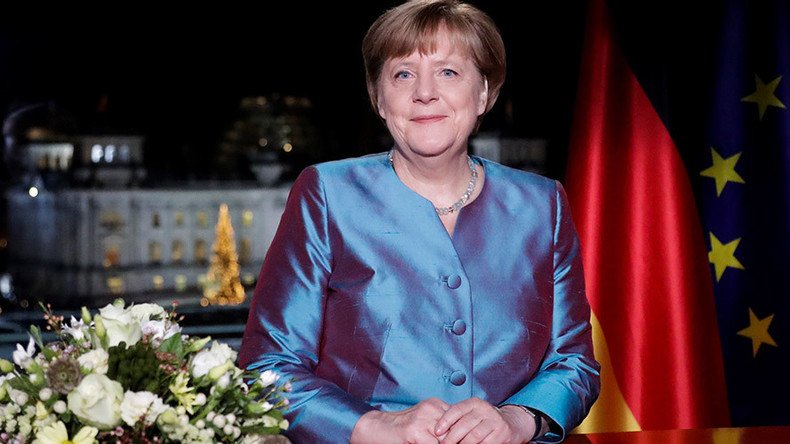 German Chancellor Angela Merkel admitted there is "no doubt" the recent spate of terrorist attacks that hit the country was the most challenging test it had to undergo this year. Refugee attackers "mocked" the readiness to help those in need, she added in her New Year's address.
"The most serious test is undoubtedly Islamic terrorism, which has been targeting Germans for many years. In 2016, it attacked us in the middle of our country," Merkel said, referring to Islamic State (IS, ISIS/ISIL)-linked attacks in Wurzburg and Ansbach in July and to the recent attack on a Christmas market by Tunisian asylum seeker Anis Amri in Berlin.
READ MORE: Refugee boats should be sent back to Africa, according to Bavarian allies of Merkel's party
The attack on a wine bar in the Bavarian city of Ansbach, which left 15 people wounded, was perpetrated by a Syrian refugee, who, like Amri, pledged allegiance to ISIS. In Wurzburg, a knife-wielding asylum seeker from Pakistan went on a rampage on a train, wounding five on July 18, in an attack also claimed by Islamic State.
The fact that these atrocities were committed by the people who were supposed to be seeking Germany's protection is a huge blow not only to the nation's ideals but also for asylum seekers and refugees who genuinely want to live in peace, Merkel said.
"It is particularly bitter and repulsive when terrorist attacks are committed by people who are supposed to seek shelter in our country. Who, exactly for this reason, have experienced our country's willingness to help and now mock this [willingness] with their deeds," Merkel said.
She noted that by biting the hand that feeds them they "mock also those who really need and deserve our protection."
The chancellor went on to stress that the best response for the German people is not to cave in to terror and allow themselves to be intimidated, instead suggesting they stand firmly by democratic values.
READ MORE: Germany to speed up repatriation of failed Tunisian asylum seekers – Merkel
"And in a firm determination, [we must] confront the world of hatred of the terrorists with our sense of humanity and cohesion. As we go on with our lives and work, we are telling terrorists: You are murderers full of hatred, but you do not determine how we live and how we want to live," she said, saying the German society is and will stay "free, humane and open."
Merkel hinted that she is not going to discard her heavily criticized open-door policy toward refugees from war-torn regions, Syria, in particular, saying that "we should say one more time, how important and right it was that in the past year our country helped those, who actually needed our protection, to come here and to integrate."
As Germany is still reeling from a recent attack on a Christmas market, when 24-year-old Amri plowed into crowds, killing 12 people and injuring dozens more, Merkel pledged to step up security with a set of new measures, promising that "security services will be given a lot of new support" next year.
Last week, the German government passed a draft bill that would allow to "facilitate video surveillance in public places and, thus, make an important contribution to combating crime," Interior Minister Thomas de Maiziere said.
A recent YouGov poll showed that 73 percent of Germans want the reinforcement of police ranks, while 61 percent said that law enforcement needs to be better equipped.
Touching on the effects of Brexit, Merkel argued that despite all the drawbacks of the EU, the UK's eventual departure from the block, which left a "deep incision," the return to a system of independent national states would be to Europe's disadvantage.
Seemingly responding to criticism leveled by Eurosceptic parties such as AfD (Alternative for Germany), that have gained ground on mainstream politicians due to their persistent anti-refugee and anti-EU rhetoric, Merkel disagreed that the EU "serves only interests of a few," dismissing this as a "distortion."
"Europe should focus on what can really be better than the national state. We, Germans, should never be led to believe that a better future for each [country] lies in going on you own," she said, reinforcing her commitment to the idea of the common Europe, in which she said Germany has "every interest in playing a leading role."
A recent opinion poll conducted by Berlin-based pollster Forsa published on Wednesday put support for Merkel's conservative Christian Democratic Party (CDU) and their Bavarian allies, the Christian Social Union (CSU), at 38 percent, a two percent increase from last week and their highest approval rating this year. The coalition's main rival in the forthcoming 2017 parliamentary elections, the center-left Social Democratic Party (SPD), is backed by only 20 percent of German voters, two percentage points fewer than last week. Merkel's personal appeal rating is also on the rise. Fifty-two percent of German citizens said they would vote for the Chancellor in direct elections, which is two percentage points more than last week.
Anti-immigrant AfD commands the support of 12 percent of voters, making it the third most popular party in Germany, ahead of the Greens with ten percent, and the Left with nine percent.
You can share this story on social media: